By R.V. Baugus
Professional sports teams relocating is not new. In the NFL, the Oakland Raiders became the Los Angeles Raiders then the Oakland Raiders and now the Las Vegas Raiders. Somebody got raided. Speaking of Los Angeles, the NFL Los Angeles Rams became the St. Louis Rams only to again become the Los Angeles Rams.
In the NBA, perhaps the most unusual mascot move came when the New Orleans Jazz became the Utah Jazz. The Charlotte Hornets were born and moved to become the New Orleans Hornets. After Charlotte rebirthed a franchise they took with them the Hornet name while New Orleans decided on Pelicans in honor of its being the Pelican State.
Maybe the most awkward feeling in sports is when two professional sports franchises share a venue. It has worked well at MetLife Stadium where the NFL New York Giants and New York Jets both play.
Across the country, both the Los Angeles Lakers and Los Angeles Clippers play at STAPLES Center. Those old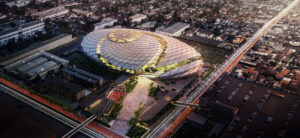 enough to remember recall the Clippers migrating north from San Diego while keeping the appropriately named Clippers which certainly fits with San Diego. Heck, even the Lakers arrived back in the day from being the Minneapolis Lakers.
The Clippers, though, are ready to have their own venue with the release of the first images of the planned Inglewood arena it hopes to call home in 2024. Inglewood, you will recall, was at one time the Lakers home with the Great Western Forum.
The NBA basketball team's proposed 18,500-seat arena will have a three-dimensional oval design with an exterior of diamond-shaped metal panels inspired by the concept of a basketball swishing through a net. The panels have been designed to provide solar benefit for maximum energy efficiency, as part of the facility's LEED GOLD-certified design.
The Inglewood Arena will revitalize mostly vacant land under the flight path of Los Angeles International Airport. The project is targeted for completion by fall of 2024, following the expiration of the Clippers' lease at STAPLES Center.
In our industry, "on the move" does not refer to just people, but as you can see venues, teams, and franchises as well.