The Los Angeles Convention Center (LACC), owned by the City of Los Angeles and managed by AEG Facilities, announced its straw ban during a sustainability presentation at the National League of Cities (NLC) City Summit on November 9, 2018.
The United States uses over 500 million plastic straws every day; most straws end up polluting oceans and killing marine life. The LACC, in partnership with in-house caterer Taste of LA by Levy Restaurants, will cease the use of 250,000 straws annually to protect the planet. Paper straws will be used only for blended coffee beverages until other solutions are accessible. Paper straws will also be available for those with ADA requirements.
"One of the best ways to reduce our carbon footprint is by removing waste wherever possible," said Matthew Brown, general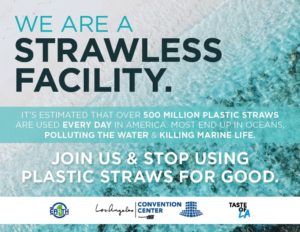 manager of Taste of LA by Levy at the LACC. "Our goal has been to function 100 percent straw-free. One year ago, we eliminated straws from catering, which serves as 80 percent of our business. Removing straws from our cafes and kiosks was the last piece of the puzzle."
The LACC has recently implemented additional sustainability initiatives. In August the facility upgraded to water and energy efficient dishwashers, saving an estimated 1.3 million gallons of water annually. Last month the LACC started a project replacing 330 faucets in guest restrooms; 0.5 gallon per minute (GPM) faucets are being upgraded to 0.35 GPM units, which will save approximately 415,000 gallons of water annually.
"Environmental sustainability is embedded in the LACC's culture and permeates every aspect of our day-to-day operations," said Ellen Schwartz, general manager of the LACC. "It is exciting to continually launch new initiatives at events like NLC City Summit that impact communities all over the country."