By Michalle Riehle-Ludtke
The Los Angeles Convention Center & Levy Restaurants teamed up Musically Fed, a nonprofit that works with artists, promoters, management, and venues nationwide to donate unused, backstage meals to community organizations comprised of at least 50% veterans and focus on feeding the homeless, hungry, and food insecure, to donate and distribute 4,000 pounds of food to the Alliance College-Ready Public Schools benefiting students and their families grades 6-12.
Musically Fed, after being notified of another 4,000-pound surplus, resulting from event cancellations,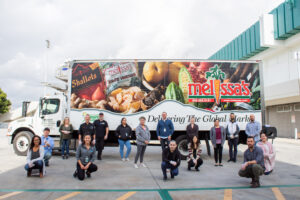 harnessed relationships garnered during its GRAMMY Awards initiative. In 24 hours, Musically Fed connected with Alliance facilitating a cooperative effort powered by LACC, Levy Restaurants and Musically Fed. This amalgamation of socially-minded organizations successfully provided several bags of free groceries for hundreds of students and their families.
"We are thrilled to share the success of this initiative," said Ellen Schwartz, General Manager, Los Angeles Convention Center. "As a facility committed to sustainability and community service, Musically Fed was a perfect partner to further our goals to reduce our environmental footprint while serving those in need."
COVID-19 school closures and the ravaged grocery shelves left in its wake, left many Alliance families ill-prepared due to both the depletion of available food and their dependence on the schools for daily sustenance.
"It was amazing to see how quickly everyone moved for a common good," commented Jonathan Tiongco, Founding Principal for the Alliance Marine – Innovation & Technology 6-12 Complex, which is part of Alliance College-Ready Public Schools. "After a few texts, everyone sent out eblasts and posted to our Facebook parenting boards. Two hours later, hundreds of families showed up with tears of joy in their eyes."
"Schools and at-risk populations have been all the more acutely impacted by this pandemic," commented Musically Fed's CEO, Maria Brunner. "Our amazing partnership with Levy Restaurants and the Los Angeles Convention Center, provides a beacon of light from civic-minded organizations; leveraging their resources and compassion to positively impact so many families, during this otherwise dark time."
"At Levy, we are continuously looking for new ways to help and give back to the community whenever we can," said Patrick Smart, General Manager, Taste of LA by Levy, LACC. "Working with Musically Fed during GRAMMYS was such a great experience, we knew they would be the best group to call when we were looking to repurpose food, and ensure our community was benefiting from our donation."
Michalle Riehle-Ludtke is Marketing & Community Relations Specialist for the Los Angeles Convention Center.
Photo: Levy Restaurants team at the LACC after loading 4,000 pounds of food donations.