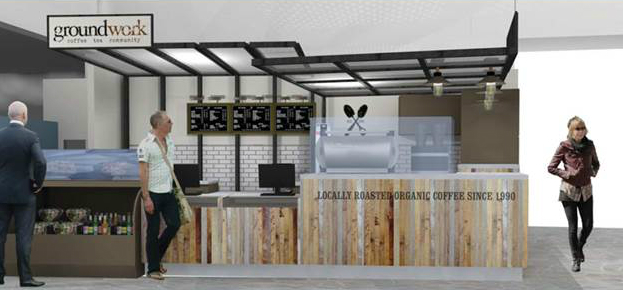 One of my favorite things to do when I visit a city is to shop at local stores and eat and drink at local restaurants and bars. Sure, you know what you're getting by patronizing a chain operation. The fun, though, is in discovering something new and knowing you can only experience it in one place.
The Los Angeles Convention Center (LACC) feels the same way. The AEG Facilities-operated venue recently selected the Groundwork Coffee Co. as its official coffee and catering supplier and operator of the venue's retail coffee locations.
"We felt utilizing a local company with a great product, sustainable business model, and social responsibility as part of their culture was the way to go," said Brad Gessner, CFE, senior vice president and general manager of the LACC and an IAVM member. "From field to cup, Groundwork's goal is to provide the highest quality product to customers while maintaining the well-being of our communities, both locally and at origin."
New retail Groundwork stores are being installed in the West and South Halls of the LACC and will be open for business in mid April. Guests who come to the LACC will have the opportunity to visit the full service, stand-alone Groundwork concession stands that will provide coffee beverages. Groundwork certified organic coffee will also be served at all other food and beverage locations throughout the South and West Halls of the LACC.
"For almost 25 years, we have taken great pride in serving the finest, specialty-grade organic coffee on earth to our customers at our seven retail locations in Southern California. Groundwork proudly offers certified organic coffee from every growing region in the world, always freshly roasted at our local Groundwork Roastery," said Eddy Cola, principal for Groundwork Coffee Co. "We are delighted to be given the opportunity to partner with AEG and the City of Los Angeles in sharing our diverse coffee, tea, and food offerings with patrons of the LACC. We're confident that our steadfast commitment to quality—reflected in all of our products and service—will be appreciated and enjoyed by all."
The announcement is part of the venue's "Taste of LA" food and beverage experience.
"We are looking forward to continuing developing the Taste of LA brand with the addition of more local flavors," said Rian Hanneman, director of food and beverage for LACC's Taste of LA. "When people come to Los Angeles, a big part of the experience is the local food and beverage…things found only in L.A. We think the attendees will enjoy exploring L.A. through the food offerings here in the Los Angeles Convention Center."