The Los Angeles Dodgers have become the latest Major League Baseball team to commit to extend netting at its ballpark following another incident of a fan being injured by a foul ball.
On June 23, a young girl at Dodger Stadium was hit in the head by a liner from home team slugger Cody Bellinger. The girl received treatment at the game before being taken to hospital for precautionary tests.
The incident comes amid growing awareness of the dangers of foul balls at MLB stadia. The Washington Nationals recently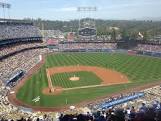 committed to installing additional protective netting, with a view towards enhancing fan safety. The new netting will extend down the line and end just short of the right- and left-field foul poles at Nationals Park.
The Chicago White Sox earlier revealed plans to extend the netting at Guaranteed Rate Field. The actions of the two teams came after a White Sox home game against the Nationals saw a woman struck on the head by a foul ball.
Incidents involving children have occurred just this month at both Houston Astros and St. Louis Cardinals, while the Dodgers have prior history. It was revealed in February that a California woman died in August 2018 as a consequence of being hit in the head by a batted ball while attending a game at Dodger Stadium.
Linda Goldbloom, a mother of three and grandmother of seven, died on August 29, four days after watching a game between the Dodgers and San Diego Padres. While deaths have been rare, injuries from foul balls at baseball games are commonplace. Last year marked the first season in which all 30 MLB teams had protective netting extending from behind home plate to at least the far ends of both dugouts to protect especially vulnerable sections of stadiums' lower bowls.
In response to the latest incident, the Dodgers said in a statement: "Fan safety is of the utmost importance to the Dodgers and during the offseason, we began the process of studying how the netting at Dodger Stadium could be configured to provide better protection for our fans. Once this study is completed, the team will implement the recommended changes and extend the netting at Dodger Stadium. The team will provide more information on the project timeline and scope when available."
Dodgers team president and CEO Stan Kasten said that these plans are expected to be made public in the "next couple weeks". Regarding the wider announcements in MLB, he added, according to the Orange County Register newspaper: "I think it was expected in baseball because all of us have been talking about doing more. All of the teams have. It wasn't a surprise at all.
"One of the things that has changed and has been helpful is that the modern-day fan has more of an expectation of seeing netting than they ever have before. And that's useful to know because customer opinions are very important."