When Marc Hagenlocher, director of operations and events of the Luther Burbank Center for the Arts in Santa Rosa, California, toured with the venue's insurance carrier and broker in the wake of sustained damage from the Tubbs Fire that spread throughout Northern California, he heard a refrain that the facility would not open until 2018.
Tsk, tsk. Never underestimate the resolve of those in the public assembly venue industry who want to work as quickly as possible to be a salve to their hurting community.
"That was not going to be acceptable to us," Hagenlocher said. "Aside from the east end of our building and the East Auditorium, I don't know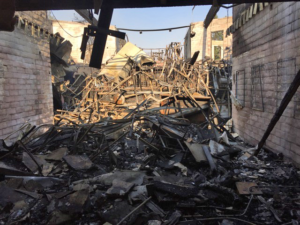 the lowdown on all the damage we sustained. A separate 3,000-square-foot facility is a total loss. Our sculpture garden and sculpture walk which is an outdoor large scale exhibit is about one-third completely totaled, one-third damaged, and one-third unscathed. When you look at what's around us, this facility shouldn't be standing. It's just mind-blowing. Still, we knew we were going to be open and ready to deliver.
"The community is looking to us as a place for healing and a sense of normalcy. We are absolutely committed and driving to get this place stabilized, get it presentable, and get our doors open."
While the facility was open on November 6 for limited use, the curtain went up in earnest on November 9 with a Shopkins Live! Shop It Up! performance that evening. A concert by the group Air Supply will follow on November 11.
Indeed, the Burbank Center has come a long way in a relatively short period of time.
"I live about a mile or so from the center in a development that was one of the affected communities," said Rick Nowlin, president and CEO of the venue. "The fires started around here somewhere late in the evening about 9 pm on October 8 and then a lot of evacuations began taking place the next morning, which was a Monday.
"The fire started in the evening and thankfully nothing was going on at the center. The first responders were able to put it out. Marc and I were talking by 4 that morning about the fire and just where everything stood."
Nowlin said that of the 140,000 square feet some 40,000 square feet was seriously impacted, most notably an educational building that called the Anova Center for Education that is a school for some 130 autistic children. That building was destroyed and the students are now in temporary facilities scattered about the Greater Santa Rosa and Windsor area.
"Our auditorium is also a total loss," Hagenlocher said. "We have three theaters, including the 1,600-seat Ruth Finley Person Theater where we do most of our programming, the Carson Cabaret with about 200 in an open floor configuration, and the East Auditorium of 400 seats that is a total loss."
Hagenlocher has spent most of the past month at the facility meeting with city officials, the Army Corp of Engineers, and others as they scrambled to get the venue back in an operating mode.
"The scale of this really is unprecedented in California," Hagenlocher said. "It's the biggest wildfire ever with six digits of square acres. Everyone is directly affected or has an employer or friend or family. We lost five percent of the Santa Rosa housing stock. In a city of 170,000-something people, to actually lose five percent of the housing stock is devastating."
Hagenlocher noted without a hint of exaggeration that the fires that impacted the venue will become a case study for what can happen.
"Every year we get the emergency responders to come out," he said. "Being a facility like ours, our event staff is quite used to call 911 for various things for all sorts of emergencies that happen on the property. We invite our first responders, whether it's the sheriff's department or the fire department, to talk with our staff about the what-ifs. I will tell you that never in any of those talks did they ever imagine this being a what-if. It was almost always like, if you have a fire within the facility, what do you do to get people out? When do you decide to evacuate?
"Sometimes that comes with its own risks being a big enough facility that we might have a fire alarm on the far end when does that evacuation get triggered? Those are some shades of grey in learning to have staff start thinking about those things. What happens often is things go on autopilot and the staff knows what to do even though it's not clear cut where you check one box or another. It's various shades of grey, but they never would have told you … about something so far beyond the wilderness area that comes into town and has this kind of reach. None of them."
Nowlin expressed thanks to his colleagues in the industry who have contacted him by email and other means asking if there was anything they could do to help. "Our entire team led by Marc has been just incredible in working with local authorities to get the organization moving forward and back on track," he said.
A Gofundme page has been established on the venue's website. Nowlin said that it has not been pushed a lot and has not been actively promoted, but it does exist. He noted that during the past month the venue has been able to accept mail and make daily deposits although most of the staff has been working offsite from home or in temporary housing for those evacuated from their residences.
To contribute, please click here.