By Erin Jepson, CVP, CMP
The Lynnwood (WA) Event Center announced the rebranding of its in-house audio/visual service provider, Offbeat Audio/Visual. This strategic move accentuates the distinctive offerings and elevates the market presence of the venue's audio/visual services. By adopting the Offbeat Audio/Visual brand, the Lynnwood Event Center aims to enhance its competitive advantage by showcasing its unique capabilities, fostering a new level of creativity and innovation in event experiences.
With a rich history of delivering exceptional services, Offbeat Audio/Visual will leverage its newly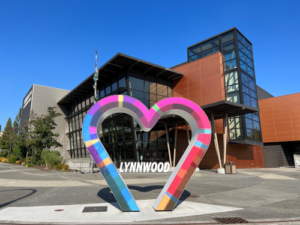 defined identity to explore new opportunities and broaden its reach within the industry. The rebranding will allow the team to do business under a name that is distinctive and memorable, setting them apart from other audio/visual providers in the market.
Offbeat Audio/Visual will continue to offer a comprehensive range of cutting-edge audio, visual, and lighting services, designed to transform events into unforgettable experiences. Through this rebranding initiative, the Lynnwood Event Center reinforces its dedication to exceeding client expectations and maintaining its position as a leader in the event services industry.
The Lynnwood Event Center is owned by the Lynnwood Public Facilities District, and operated by OVG360, a division of Oak View Group.
Erin Jepson, CVP, CMP is General Manager of the Lynnwood Event Center.