By MLB.com
Major League Baseball and RB, the makers of Lysol, today announced a new multi-year partnership to help reinforce and promote healthy habits and disinfection protocols for the league's players, staff, and fans. The partnership will leverage Lysol's 130 years of germ kill expertise and innovation to help maintain a high standard of healthy habits and hygiene for MLB personnel across the league, during both games and training sessions.
As MLB concludes its 2020 season and looks toward the first pitch of the 2021 campaign next spring, disinfection and germ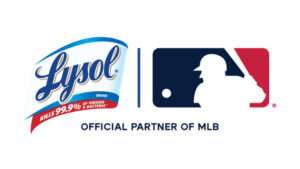 prevention will continue to be top of mind to help protect those in ballparks across the league. MLB's partnership with Lysol will include multiple touchpoints and areas of focus over the coming seasons, including:
• Disinfecting Protocols, Best Practices and Germ-Kill Expertise: Microbiologists and germ-kill experts from Lysol will work with MLB to reinforce ongoing protocols for disinfection in ballparks, with a focus on high-touch germ hotspots, to be put in place for the 2021 season.
• Lysol Professional Solutions: Starting with the 2020 Postseason, Lysol has begun to provide Professional grade disinfection solutions to MLB, to be made available to players and staff in dugouts, bullpens and clubhouses as well as in fan areas. Lysol products are also included in Postseason hotel welcome kits for players, staff and their families.
• Community & Outreach Initiatives: MLB and Lysol will work to identify opportunities to provide Lysol product and educational materials to schools across the country, engaging with young fans and promoting healthy habits in the classroom.
The US Environmental Protection Agency recently approved both Lysol Disinfectant Spray and Lysol Disinfecting Wipes among the first to test effective against the novel coronavirus when used as directed on hard, non-porous surfaces.
"The addition of Lysol's expertise and disinfecting products will help further strengthen efforts to create a safe environment to play Major League Baseball," said Jon Coyles, MLB Vice President, Drug, Health and Safety Programs. "As a brand that is synonymous with cleanliness, the Lysol brand will be an important partner in our management of the evolving pandemic as well as in amplifying health and safety messages around baseball."
"We're thrilled to partner with MLB to help support and promote hygiene in some of the world's most iconic sporting venues," said E. Yuri Hermida, EVP North America Hygiene for RB. "At Lysol we also understand that one of best weapons against the spread of germs is knowledge, and we look forward to helping MLB develop an even higher-standard of cleanliness and disinfection."