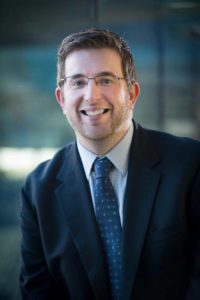 IAVM member, Mac Campbell, CVP, has been named as the Event Industry Council's (EIC) 2017 recipient of the Pacesetter Award in the Young Professional's category. Campbell was nominated by IAVM for his commitment at the Baltimore Convention Center in furthering sustainability and community outreach, as well as for his dedication to the association's Young Professionals Committee.
"Mac is very deserving of this award for his accomplishments and service," stated Brad Mayne, IAVM CEO and President. "I appreciate EIC's recognition of one IAVM's outstanding Young Professional members and his positive impact on so many areas of our industry."
Established in 2012, the Pacesetter Awards recognize the valuable contributions individuals are making to impact the events industry today, as well as charting the course for a thriving future.
Campbell has spent the past five years as the Director of Client Services with the Baltimore Convention Center in Baltimore, MD, and has provided an ongoing commitment to the center's green initiatives and improving client services. "We are elated that Mac has been recognized by EIC for the 2017 Hall of Leaders Pacesetters Award," commented Peggy Daidakis, Executive Director for the Baltimore Convention Center. "He is committed to improving and advancing ideas with better trained staff, better ways to serve our customers and better techniques to care for our facilities. His leadership and involvement in IAVM demonstrates that he driven to produce positive outcomes and quality programs. I am very proud of Mac. He is very deserving of this honor."
"The committee couldn't be more pleased with EIC's selection of Mac for this honor," said Neil McMullin, IAVM Convention Center Committee Chair and Vice President-Shared Services at Fern Expo and NexxtShow. "This is well-deserved, as Mac epitomizes the type of leader who is helping to create a bright future for our industry."
Brad Gessner, CFE, Senior Vice President and General Manager at the Los Angeles Convention Center, AEG Facilities stated, "Mac represents the best of the young professionals in our great industry, and we couldn't be prouder or more pleased to have one of our own recognized for their talent by the EIC."
"It was an extreme honor to be nominated for the award, even more so to be selected as this year's recipient," said Campbell.
He will receive his award at the EIC's 2017 Hall of Leaders and Pacesetters Gala in Las Vegas, NV on October 10th.