By Erin Jepson, CMP
This is the time of year where many of us reflect back on the last 12 months and are looking forward to the fresh start a new year brings. We may be celebrating accomplishments from the past year, thinking of how things can go differently next time and many of us are planning for next year's resolutions.
I ask you this – what did you do last year to make a difference in someone else's life? Perhaps you coordinated a coat drive at work or wrote a check to the IAVM Foundation (wait … you didn't do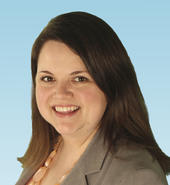 that? It's not too late to get that in before the end of the year). Did you know that IAVM provides the opportunity to give back in a way that doesn't cost you any money out of pocket but the returns are priceless?
I first signed up to be a mentor in the Mentor Connector program during VenueConnect 2016. I have to be honest, however. I signed up on the heels of a frustrating conversation with a colleague and was looking to feel better about my participation in the industry so it was purely self-serving at the time. What I didn't know that August afternoon on the exhibit hall floor was how much the program would transform how I look at my career – past, present and future.
Over the course of the next 12 months, I had the pleasure of sharing information about IAVM volunteer opportunities and what volunteering has meant to me, connecting my mentee with professional contacts as he prepared for the CVP test, and discussions around my experience working at the Super Bowl in 2012 as he is preparing to help host some of the Super Bowl activities in his own venue in 2018. When I signed up to help, I had no idea those would be the areas we talked about at length. If you had asked me what I could contribute as part of the program, my response may have been "Umm, I'm good at taking leaps of faith and throwing caution to the wind so if someone is on the fence about a decision, pair them with me and I'll talk them into it." What I was able to offer was so much more. Aside from all of the association and professional knowledge you actually have to share, being a mentor means making a meaningful connection outside of your workplace and good connections have a lasting impact.
Is this still not resonating with you? Let me try to tug at your heartstrings a bit. Do you remember your first mentor (official or unofficial)? I do. I wasn't expecting to meet someone who turned out to mean so much in my career the second year I attended VenueConnect but thankfully I did. Would I be where I am today without her? Maybe. Would the path to get here have been the same filled with interview opportunities, volunteer work and leadership opportunities? Absolutely not. My connection to her helped lay a road map that has taught me so much, whether she directly impacted that or not, having her in my life was paramount to how my career has turned out so far.
Don't you want to be that for someone else? What if it only took an hour or so a month to make that impact? That's nothing for you in the grand scheme but it may mean the world to your mentee. So as you're thinking about how to give back and what resolutions to set for yourself in 2018, make a note to head to the IAVM Mentor Connector website and sign up for the next round. You absolutely have what it takes to be a great mentor; you just need to take that first step.
Wait, are you still on the fence about signing up? Remember when I said I'm good at talking people into good decisions? Feel free to email or call me to talk about this. I'm happy to tell you more about my experience. I wouldn't trade it for anything.
Erin Jepson, CMP, is Director of Events at the Oregon Convention Center. Contact her at 503-731-7890 or at erinjepson@oregoncc.org.