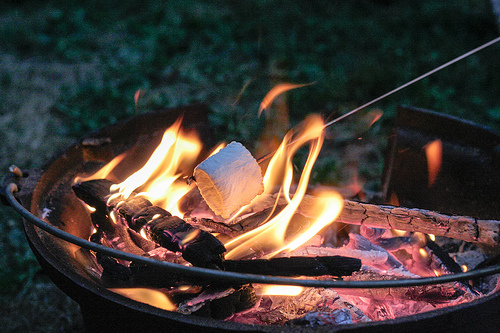 Many of us have a distinct memory of something that may not be the most monumental event in our lives, but somehow it stands out beyond all of the other daily experiences we accumulate. It might be a summer camp memory, sitting around a fire determining the maximum amount of marshmallows one can stuff into one's mouth. Or perhaps it's the memory of a first week away at college, playing volleyball on the dorm lawn. There is actually a term for this kind of memory—it's called a Context-Dependent Memory, and all it takes is the taste of a marshmallow or the smell of cut grass to trigger the memory's reappearance.
So why are we talking about marshmallows and context-dependent memory to a bunch of venue managers?
Here's why.
IAVM offers three truly unique learning immersions that help supercharge your context-dependent memory and advance your career at the same time. IAVM's Venue Management School (VMS), the Graduate Institute, and the Senior Executive Symposium (SES).
Senior Executive Symposium
Senior Executive Symposium (SES) will take place May 12-15 in Ithaca, N.Y., on the picturesque think-tank campus at Cornell University and offers an in-depth educational program to deepen personal and professional growth and foster long-term networking relationships. SES is a 4-day leadership course for senior-level venue managers and other individuals on a leadership track inside their organization. SES curriculum rotates each year through three areas of focus: Visionary Management, Strategic Planning and Leadership Culture.
Carl Adkins, GM at the Georgia Dome and the Chairman for the Board of Governors says about SES, "The sense of setting, the material, the professors, the camaraderie and most of all, the time to simply turn off your devices and simply THINK cannot be adequately described, but a few words I would use to try and capture the essence of SES would be; relaxed yet stimulating, challenging and thought-provoking, mind-opening, refreshing and rejuvenating."
Venue Management School and the Graduate Institute
Venue Management School (VMS) and the Graduate Institute will take place May 31-June 5 on the rolling hills of Oglebay Resort and Conference Center in Wheeling, W.V. The Venue Management School is the best professional education program available for both seasoned venue managers and people new to the industry. The curriculum covers topics like event management, life safety, marketing and advertising, crowd management, the guest experience, professional ethics; and then transitions into leadership, human resource management, problem solving, and decision making in the Graduate Institute.
The 100-year-old venue with 1,700 acres of park-like settings, nestled in the rolling hills of Wheeling, W.V., can truly turn black-and-white learning to Technicolor. With lush overnight accommodations, golf and spa facilities, and over 20,000 square feet of meeting space, Oglebay Resort provides the perfect ingredients to an educational program packed with tangible and trustworthy information, networking, and shared expertise, allowing for a deeper connection between the leaders that emerge from the program. Now that's Context-Dependent Learning at its most elegant.
For the 2,800+ venue managers who have attended VMS and the Graduate Institute since its beginning in 1987, their Context-Dependent Memory is fondly known as "That Wheeling Feeling." Venue Managers describe the experience as, "one of the most rewarding weeks I've had while learning" and "Although the formal classroom setting and educational element is taken very seriously, it is the camaraderie and bonding that exists among the students (and faculty) that makes Venue Management School at Oglebay Resort a truly special place."
Brandi Quick, CFE, and the assistant director at the Von Braun Center in Huntsville, Ala., has been an IAVM member since 2001, and has had the opportunity to attend all three years of the Senior Executive Symposium, Venue Management School (VMS), and the Graduate Institute (GI) at Oglebay Resort. When asked how SES differs from VMS and the Graduate Institute, Quick says, "I look at the three programs like this: VMS is like the Bachelor's Degree program, the Graduate Institute is the Master's Degree of Venue Management, and the Senior Executive Symposium is like the PhD program. It covers a higher level of knowledge and is a much more intense and focused program. Where VMS and the Graduate Institute may spend an hour on a subject like customer service, SES will take a full day to cover it."
Is it time you begin creating amazing context-dependent memories and advance your career? Seats for these courses are limited to encourage interaction and expand your learning opportunities. Visit IAVM.org and register early as these program are some of the most sought-after learning experiences IAVM offers. Applications close January 15, so apply today for VMS and the Graduate Institute. The Senior Executive Symposium applications deadline is March 31, 2014.
(photo credit: evilpeacock via photopin cc)