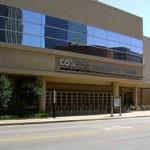 As with many convention centers around the country this time of year, the SMG-managed Cox Convention Center in Oklahoma City hosted a number of high school graduations for schools not only within the city limits but from surrounding communities as well. In fact, this year's count was 14 graduations at the venue that sits across the street from the Chesapeake Energy Arena just off of Interstate 40.
As events go, graduations follow a fairly smooth and straightforward script as one ends and another begins. But for the Classes of 2013 from Moore, Southmoore and Westmoore, their shining moments were tinged with the still too-fresh pain of an EF5 tornado that tore through the 56,000-strong city of Moore five days earlier, killing 24, including seven children at Plaza Towers Elementary School.
Ryan McGhee, communications manager for the Cox Convention Center and Chesapeake Energy Arena, said that he is not usually present for this particular event, but he was this year in order to work with a large local and national media contingent that included reporters and photographers with the Associated Press, CNN and The Weather Channel.
"We were expecting the coverage and worked closely with the (Moore) school administration to formulate a media plan."
"We were expecting the coverage and worked closely with the (Moore) school administration to formulate a media plan," said McGhee. "The administration actually came up with the policy and we helped them enforce it."
As much as possible, McGhee said that the venue tried to make the day as normal as possible, given the circumstances. Despite the ongoing grief in the community, McGhee noted that graduations are a time for celebration and to look to the future.
Still, for this one day and in the presence of an attending media, provisions were made, and it was up to the staff at the convention center to help execute the plan.
"The three high schools made a select group of about 10 students per school available to speak to the media before the graduation," said McGhee. "We had a meeting room set up and ready for interviews to take place."
McGhee said that the graduation ceremonies took place on the floor of the venue as they always do and that photographers were positioned in terrace suites to take pictures.
The prevailing sentiment from many of the graduates is that Moore will always be home, even if their college plans take them elsewhere.  For this particular bittersweet day, the rest of the country also embraced Moore as one of its very own.