The Shenyang New World EXPO ("EXPO") successfully hosted one of the largest Chinese international conferences ever to be held in northeast China. The 2018 Chinese Conference on Oncology was held on August 18-19.
Delegate attendance on the opening day of the Conference exceeded 18,000. The event maximized the use of all areas of the venue including the 24,000 sqm (258,000 sq. ft.) of exhibition/multi-purpose space and 4,000 sqm (43,000 sq. ft.) of meeting space.
During the two-day event, the venue provided F&B services as well as venue safety and security services to ensure efficient crowd management and transportation logistics. Shenyang's Security and Traffic Bureaus were also outstanding in their support of the staff and event.
EXPO General Manager Diane Chen said, "This extraordinary mega-conference was a real challenge due to the attendance and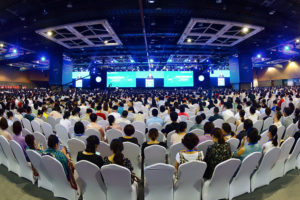 technical details. Its success is a credit again to the tremendous commitment of our EXPO staff and the superb cooperation received from our government bureaus. We have shown again how valuable EXPO can be to the community in hosting such events which will only add significantly to the positive economic impact of the city and Liaoning Province."
Shenyang New World EXPO Venue Management Chairman Cliff Wallace, CVE, acknowledged the leadership provided by EXPO's management and the standards by which the organizers planned and executed the Conference. It was an endorsement of the venue, the city and the government. With such ongoing cooperation, Wallace said, "The meeting and exhibition industry of Shenyang and Liaoning can only expect healthy growth."
The Conference was sponsored by China Anti-Cancer Association (CACA), and organized by Liaoning Cancer Hospital & Institute and Liaoning Anti-Cancer Association. The Conference also enjoyed the highest number of attending academicians, collected papers, and participating experts of any of its previous conferences.
The Conference set-up included one main venue, eight theme venues and 77 parallel sessions holding academic forums with 923 renowned scholars and experts specialized in oncology across the world. The number of people watching live broadcast online reached 1.08 million, involving 210 media outlets.
The Conference included parallel sessions to discuss new ideas, new techniques and new methods concerning common treatment like radiotherapy and chemotherapy, anti-cancer drugs, Minimally Invasive Surgery (MIS) and Percutaneous Coronary Intervention (PCI), therapeutic endoscopy, biotherapy, nutritional oncology, nuclear medicine, and psycho-oncology and oncologic nursing, as well as exchange opinions on development of pathology of neoplasia, tumor markers, epidemic diseases, and etiology of cancers.