As Hurricane Harvey has finally left the Gulf Coast and headed north and east, many Texas residents have found refuge in shelters set up across the state.
The George R. Brown Convention Center in Houston began immediately welcoming all people into the facility with an expected capacity of 5,000. That number was quickly overwhelmed and nearly doubled within three days after the convention center began taking in people.
Houston First provided a release on Tuesday and will be updating information later today about the status of the convention center as a mega-shelter. In part, the release shared the following:
•At the moment, Houston's George R. Brown Convention Center is serving as an emergency shelter for thousands who have been left homeless. The Convention Center is fully functional and the convention campus, Avenida Houston, sustained no damage. At this point it's too early to say how long the facility will be used in that capacity.
•According to the most recent reports, surrounding hotels in downtown Houston sustained no damage and are fully operational.
•Both airports are expected to be operational by the end of the week.
•Many of the facilities in Houston's Theatre District have sustained damage. Evaluations are currently underway to determine the extent of the damage, and its impact on future operations.
Meanwhile, the Kay Bailey Hutchison Convention Center in Dallas set up preparations for up to 5,000 more displaced residents. That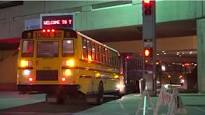 number was low until several buses arrived overnight to the facility while other people arrived on flights at Dallas Love Field. It is now estimated that the venue is home to about 1,000 people, a number that Mayor Mike Rawlings said will very likely rise. In addition, another 200 displaced residents arrived late last night at in Fort Worth at the Fort Worth Independent School District's Wilkerson-Greines Activity Center.
The Dallas shelter is expected to remain open for several weeks.
The hurricane has also played havoc on the sports schedule. The Houston Texans were to host the Dallas Cowboys on Thursday night. That game was originally moved to AT&T Stadium in Arlington before being canceled so the Texans could return home. A baseball series between the Houston Astros and Texas Rangers scheduled for Houston's Minute Maid Park was moved to a neutral site in Tampa during the week. Finally, the AdvoCare Texas Kickoff college game between LSU and Brigham Young University scheduled for Houston's NRG Stadium will take place Saturday at the Mercedes-Benz Superdome in New Orleans.