Industry veteran Joe Sassano, who led the opening of the Edmund P. Joyce Athletic & Convocation Center in 1968 on the campus of the University of Notre Dame before his retirement in 2003, passed away on September 19 at the age of 85.
"I am saddened to inform you that Joe Sassano passed away at his home," Fighting Irish Media (FIM) executive director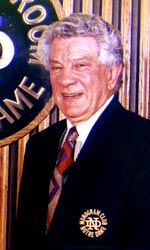 Dan Skendzel said in an email. "He had been in and out of the hospital over the past few weeks dealing with congenital heart failure and will be missed."
Sassano attended Notre Dame, earning a bachelor's degree in 1955 and a master's in guidance and counseling in 1959.
Sassano had been of the Joyce Center management since the building opened in 1968. He previously spent nine years as head football coach at Weber High School in Chicago, winning two Catholic League titles. He's a 1955 Notre Dame graduate who also earned a master's degree from Notre Dame in 1959.
"Not only was Joe a legend in the Notre Dame community for decades, but he also was a champion of supporting young professionals in our industry," said Doug Booher, CFE, IAVM chair and director of University Events/Indiana University Event Services/Indiana University Auditorium. "As a South Bend native, I found Joe to be an early role model as I attended and worked on events that he hosted at the Joyce Center. He was a true professional and consummate gentleman; his kindness will not be forgotten."
Visitation will be Sunday September 24th from 4-8 pm at the Kaniewski Funeral Home in South Bend. Monday morning visitation at the Basilica of the Sacred Heart at Notre Dame from 8:30-9:15. A mass of Christian Burial will follow at 9:30 at the Basillica. Burial will follow at Cedar Grove Cemetery, Notre Dame. To send online condolences, please visit kaniewski.com.
Memorial contributions may be made to the College Scholarship Fund of the Italian-American Heritage Society of Notre Dame/Michiana, P.O. Box 1201, South Bend, IN 46624.