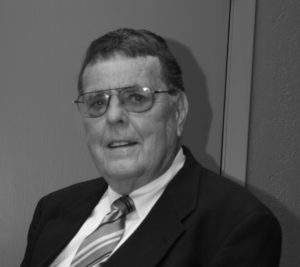 I drove from the IAVM Headquarters near Dallas back in early 2013 to visit Dean Justice, CFE, in Austin and to view the association's archives that he oversaw at an off-campus location from the University of Texas at Austin. As the former IAVM president in 1981-82 greeted me, I could tell that he did not want to waste any time in showing me the mammoth collection from the industry that ran decades and decades back into a history that Justice devoured and loved.
More than three years later, Justice would pass away peacefully from colon cancer on October 29 with his son, Blake, daughter, Tracy, and wife, Sharon, at his side at home. He was 88.
"He loved the industry even to the end," Sharon said. "The minister would come out every 10 days or so and Dean would often talk about the entertainment industry. He would talk about shows that had been at the Erwin Center and about the IAAM and the membership. It was nice to hear him tell those stories of different acts and stay positive."
Justice opened the Frank Erwin Center on the campus of the University of Texas at Austin in 1977 as its first director until his retirement in 1990. He was an innovator who introduced the full-service in-house concept with ticketing, marketing, catering, box office and more handled within the venue.
"Dean was a true innovator," said Jimmy Earl, CFE, senior associate director of the Erwin Center. "He gave me an opportunity to be the first events manager at the Erwin Center and for that I am forever grateful. It got me started me on my path. I was just a young 22-year-old kid and been at it 40 years now."
"Dean had a real sense of history and he enjoyed history," Sharon added. "He felt like that was a blank spot in history when it came to the industry. It needed to be taken care of and people needed to know about those shows and what they meant to people. He did a lot of work on that after he retired."
Justice was also the first director of the SIU Arena at Southern Illinois University. Born on March 23, 1928, in Chanute, Kansas, Justice graduated with a Bachelor of Arts in Business from Emporia State College in Kansas in 1950.
He enlisted in the U.S. Navy, served four years in the Korean War and returned to work in the insurance adjustment industry before becoming SIU's first manager in 1964. He later moved to Austin and became intimately involved with the then International Association of Auditorium Managers.
During the mid-80's, Justice became aware that the history of his association as well as the professional touring entertainment industry was not being preserved. There were facilities for preserving the history of "The Headliners" and events occurring on Broadway, but no facilities existed for preserving the history of events that toured the country or the industry and individuals who supported touring events.
Justice led the way for this preservation by persuading The Center for American History at The University of Texas (later known as the Dolph Briscoe Center for American History) to establish the Professional Touring Entertainment History Archive in 1995. He also established a non-profit corporation to solicit collections from significant segments and individuals associated with the industry and to support the work of The Center in preserving and managing the archive. When the Advisory Council for the Dolph Briscoe Center was established, the President of The University President appointed Justice as a member.
"Even before he retired he started working on that," Earl said. "He had a passion for the industry and people and the history of it. He started the collection and various entities and really encouraged his contemporaries to send in history and explain why it was important. He was passionate about it like he was with people. He also encouraged his staff and spoke highly of them and did the best for them. He was a great guy for the business. He wanted excellence and demanded it out of himself and everybody around him."
Travel was also a passion as Justice stayed in or visited 38 of the 56 national parks in the country where his memories were preserved through his love of photography.
"We saw a lot of presidential libraries when we traveled," Sharon said. "Once again it was that history kind of thing. We looked at the various presidents through the eyes of their libraries. He liked that a lot."
The final days were difficult and Sharon said that it was not because of the cancer but because of her husband's sight being robbed by a stroke in one eye and laser treatment in the other eye.
"That was probably the hardest part," she said. "He loved his Texas Longhorns. I thought about him last Saturday when they lost to Kansas, because he was originally from Kansas. At the end, he couldn't see but he could hear what was going on. I had to tell him about (football coach) Charlie Strong and that we didn't know if Charlie was going to stay. He listened to every word.
"I don't think there was a men's or women's basketball game he missed when he was the director of the Erwin Center. Oh, he loved those games. He was so proud of the women's team when they won the national championship (in 1986).
"The association and industry also meant so much to Dean. He always believed the association was on the cutting edge whether it was technology, lighting, seating, vendors or whatever it might be. He always looked forward to the national convention and the opportunity to see his colleagues and to learn. He always felt like he learned a lot. Here he was toward the end of his career and he would still go to every session. He always said he could learn something more. He never quit learning."
Memorial contributions may be sent to one of the following: The Briscoe Center for American History in support of the Professional Touring Entertainment Archive, The University of Texas at Austin, Arno Nowotny Building, 2300 Red River Street, Stop D. 1100, Austin, Texas 78712, or All Saints' Episcopal Church, The Clergy Directors Fund, 209 West 27th Street, Austin, Texas 78705. An obituary and memorial guestbook are available online at www.wcfish.com.
Reflecting on his former boss, Earl noted that, "Dean was the association president and I got chance to be the president (in 2004-05). Dean won the McElravy Award and I got to receive it. So, he impacted me in a very positive way with him being an icon in the industry. He was a great man and I will miss him. His contributions to the industry are well documented."