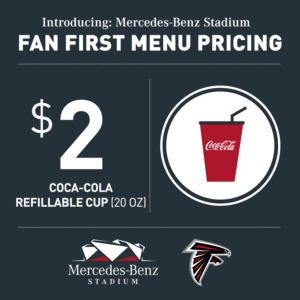 Atlanta's Mercedes-Benz Stadium will offer food and beverage options at low prices when it opens next year, venue leadership said. For example, look at these price points:
$2 – Non-alcoholic beverage products with unlimited free refills (at freestanding refill stations)
$2 – Dasani bottled water; hot dogs; pretzels; popcorn
$3 – Peanuts; pizza; nachos; waffle fries
$5 – 12 oz. domestic beer
"We focused from the beginning on building a unique fan experience at Mercedes-Benz Stadium with a goal of helping those who visit to leave the stadium with great memories shared with family and friends, not aggravation and frustration about their experience," said Falcons and Atlanta United owner Arthur M. Blank in a statement. "We have listened to the concerns of the fans on the food and beverage experience and have responded to those concerns in a way that honors our commitment to providing the best possible fan experience at our events."
Speed and quality of service will be improved, too, with more than 670 concession points-of-sale, self-service soda refill stations not near concession stands, and whole-dollar pricing.
"To truly reimagine the food and beverage experience, we needed to first and foremost offer fans the best value possible," said Mike Gomes, senior vice president of fan experience, in a statement. "Value starts with pricing but also includes improved quality and freshness, a variety of options that can appeal to all fans and the best speed of service – all of which we have delivered on through Mercedes-Benz Stadium's innovative approach to the food and beverage program."
(Image: Atlanta Falcons)