By stadiumbusiness.com
Mercedes-Benz Stadium, home of the NFL's Atlanta Falcons and Major League Soccer's Atlanta United, has claimed a first for a professional sports stadium after it was awarded Total Resource Use and Efficiency (TRUE) precertification for its zero waste efforts.
TRUE precertification is administered by Green Business Certification Inc (GBCI) and recognizes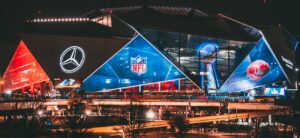 buildings and projects which have implemented the foundational programs and policies needed to effectively pursue zero waste.
Since March, Mercedes-Benz Stadium has diverted over 90% of accumulated waste from landfill at all major events, including five Atlanta United matches and concerts from Kenny Chesney and Coldplay.
The stadium employs various green practices and programs, which allow it to achieve zero waste status on event day and in the building's administrative offices. Initiatives have included recyclable and compostable supply-chain items and leveraging a 6,000-square-foot resource recovery room to reclaim, sort and divert materials from landfill.
Mercedes-Benz Stadium has also launched sustainability education and engagement programs for fans, associates, and food and beverage partners, while it has pledged to fit recycling and compost bins at every stadium suite by August.
Dietmar Exler, chief operating officer at Mercedes-Benz Stadium, said: "We are excited to announce that we have earned TRUE precertification, which is a major milestone on our journey to becoming a fully certified zero waste facility.
"Since construction, Mercedes-Benz Stadium has been committed to creating a sustainable environment both in and around the stadium to reduce our overall environmental footprint. This is just the next step in our overall journey."
In 2017, Mercedes-Benz Stadium became the first professional sports venue in North America to achieve the highest Leadership in Energy and Environmental Design (LEED) Green Building Rating System certification.
The stadium also employs water retention, energy conservation, alternative transportation, urban garden and agriculture programs. The venue works with partners Coca-Cola, Georgia Power, Novelis, Phade, and Waste Management to further enhance its efforts.
While Mercedes-Benz Stadium is the first stadium to achieve the TRUE certification, it is not the first venue overall. State Farm Arena, home of the NBA's Atlanta Hawks, achieved this in April.
In 2019, State Farm Arena diverted only an average of 10% of its total waste but since May 2021, the venue has consistently diverted a minimum of 90% of fan-generated waste from landfills.