The ticket for the game might not be too fan-friendly, but oh how guests at Super Bowl LIII at the Mercedes-Benz Stadium in Atlanta are going to love chowing down on some $2 hot dogs and washing them down for some $5 beer.
Yes, the prices for such staple concession items at America's biggest sporting event gives patrons an opportunity to save a few bucks when it comes to filling up the stomach.
As team CEO/President Rich McKay said once again in advance of next Sunday's game between the New England Patriots and Los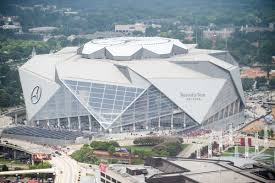 Angeles Rams, the venue would have Fan First Menu Pricing for spectators, and the menu even goes beyond the tried-and-true hot dogs and beer.
In all, some 12 popular food and beverage items will be available at very affordable prices, including $5 cheeseburgers, $3 nachos, and $2 refillable soft drinks. There is no tax included on the items, so go ahead and hand over that $10 bill and walk away with some nachos, a dog, and a cold one.
The low pricing is actually counter to what takes place at such a major event as a Super Bowl. But, again, McKay, pushed aside the significance of the game when it came to menu pricing.
In fact, the team introduced the concept when the sparkling $1.5 billion stadium debuted in 2017. Most telling, spending per customer rose 16 percent despite a 55 percent dip in prices from the last year of the Georgia Dome through the inaugural year of Mercedes-Benz Stadium.
Levy Restaurants is the venue's F&B provider. With this being, of course, a Super Bowl, fans will make it an all-day affair, something the provider has taken into account as there are 29 walk-in coolers for keg storage and another 12 for food coolers. There will be no issue in running out of items as 75,000 bottled waters and 55,000 hot dogs will be stocked for the big game.
The concept of lowering some prices seems to be catching on as 13 pro and college sports teams have followed the lead in Atlanta, including the Baltimore Ravens and Detroit Lions.
Where does all of this go from here? Who knows, but for now there is a great starting point set by the model in Atlanta.