By Sabrina Anico
The Miami Beach Convention Center (MBCC, a Spectra-managed venue) announced the appointment of Patricia M. Rios, MSHRM, as its new Human Resources Business Partner to the re-imagined venue.
Rios, most recently relocated from Orlando, FL, enjoys over 18 years of human resources management experience, including roles at several recognizable hospitality companies such as Centerplate, Interstate Hotels & Resorts, Starwood Hotels, and KSL Resorts. In her most recent role as Corporate Executive, Rios oversaw human resources operations for several locations in the United States including universities, convention centers, sports stadiums, and other hospitality venues.
Rios' expertise includes over 10 years of hospitality experience relaying human resources functions into business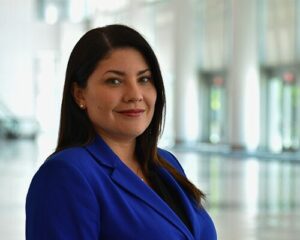 efficiency and building infrastructure, with a particular focus on property openings, transitions and renovations. Throughout her career she has established and implemented policies and procedures while building department infrastructure. Rios' leadership style emphasizes improving and maintaining positive employee relations through talent development and talent retention, with a focus on fostering a culture of inclusion,
teamwork, communication, and maintaining organizational growth.
"Patricia's strong hospitality background combined with her excellent leadership, experience, professionalism, management skillset and compassion exemplify exactly what this critical role requires for the MBCC," said Freddie Peterson, General Manager of the MBCC. "We're excited to welcome her to the MBCC family and Miami Beach, and look forward to further elevating the team in delivering excellence in customer service at this magnificent venue."
Rios is a graduate from Florida International University with a Master of Science in Human Resources Management and a Bachelor's in Business Management from Ashford University.
Prior to her transition Rios was a member of the Hispanic Chamber of Commerce of Metro Orlando, International Drive Chamber of Commerce, Puerto Rican Chamber of Commerce of Central Florida and Orlando Economic Development Partnership.
"I am thrilled to be a part of the Miami Beach Convention Center," Rios said. "I really look forward to exploring all of the wonderful arts and culture on Miami Beach!"
The Human Resources Business Partner at the MBCC is responsible for aligning business objectives with employees and management, consulting with management team on human resource-related issues, while acting as an employee champion and change agent.
Sabrina Anico is Marketing Manager of the Miami Beach Convention Center, Spectra Venue Management.