By Blair Cardinal
Spectra, one of the industry's top private management and hospitality companies, has appointed Michael Logan as general manager to lead venue operations at the Swiftel Center. The company, which operates more than 330 venues across North America and globally, began its venue management and partnerships sales contract at the 6,500-seat arena in Brookings on August 1.
Logan will oversee all aspects of the facility's daily operations, including contract negotiations,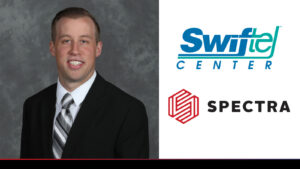 financial planning, marketing initiatives, and event booking. Spectra's strong network of venues – in particular within its sizable regional cluster including the Alerus Center in Grand Forks, N.D.; Ralston Arena in Omaha, Neb.; Tyson Events Center & Orpheum Theatre in Sioux City, Iowa; and Denny Sanford Premier Center in Sioux Falls, S.D. – will help enhance booking and sponsorship revenue generation at the Swiftel Center.
On May 25, 2021 with a 6-0 vote, Brookings City Council unanimously approved Spectra to assume management of the multi-use facility. The five-year contract will run through December 31, 2026. Spectra invited 100 percent of the building's staff to remain onboard, with all but three opting to stay, and also created and hired two new positions – director of finance and director of partnerships.
"The transition has been exciting and seamless. We have weekly meetings with our new partners in the City, and regular and frequent communication with the team," Logan said. "We're all eager to officially get started, and I'm prepared to help Swiftel Center reach its full potential as an economic driver and centerpiece to the local community."
Logan will work to uphold the center's mission to enhance the quality of life for the citizens of the region and provide a positive economic impact by hosting live spectator events, banquets, meetings, trade shows, conferences and conventions. Spectra intends to increase the number of event days by 20 percent and attendance by 45 percent by the fifth year, which would equal $1 million annual incremental economic impact to Brookings.
Previously, Logan was Spectra's assistant general manager and director of events at the NOW Arena in Hoffman Estates, Ill., where he oversaw the events, operations, and technical departments, and supported event booking and managed arena contracts. Since joining Spectra in 2014, Logan has also served as the director of events at the Iowa Events Center in Des Moines, Iowa, where he managed the events, parking, and guest services staff. While in this role, he also oversaw numerous events including concerts for artists such as Drake, Paul McCartney, and Eric Church and major sporting events, such as the first and second rounds of the 2019 NCAA Basketball Tournament. Prior to that, he served as Senior Event Manager at the Budweiser Events Center in Loveland, Colo.
"With Mike at the helm, Spectra will improve Brookings' position as a prominent destination for live entertainment and events, meetings, trade shows and conventions," Erick Rangel, Chief Financial Officer, City of Brookings, said. "Spectra brings extensive resources to the table: strong relationships with promoters, business intelligence, streamlined policies and procedures, next-level customer service, and a network of professionals across North America to help train and support our employees. Plus, we can tap Spectra's successful teams among our regional peer venues for knowledge sharing and best practices. We're excited to get started."
Mike Scanlon, Spectra's Senior Vice President of Arenas & Stadiums, added: "We know Swiftel Center is going to benefit from Mike's leadership experience. He's dedicated not only to the success of the venue, but also to the success of each employee."
Logan earned his master's degree in Tourism Management from Colorado State University in Fort Collins. He enjoys spending time with his family including his wife, Monica, 2-year-old son, Liam, 2-month-old son, Cooper, and dog, Oliver. Mike also enjoys biking, skiing, golfing, and travelling.
Blair Cardinal is Vice President, Communications at Spectra.