Turns out that 2018 is becoming quite a year for Michael Marion, CVE, general manager of the Verizon Arena in North Little Rock, Arkansas. Marion ascends to IAVM's highest volunteer position next month at VenueConnect in Toronto when he becomes the chairman of the board of IAVM, joining an illustrious list of predecessors.
But before Marion gets to accept the gavel from Doug Booher, CVE, and make some remarks in Toronto, first came the little matter of his being named the 2018 recipient of the distinguished Ray Ward Award given during the recently concluded Venue Management School (VMS) at Oglebay. Actually, the award is a huge matter and named after an industry icon in Ray Ward. This year's award carries extra significance as Ward passed away in early May.
The award is bestowed upon an individual associated with VMS whose dedicated service and extraordinary contributions over a period of at least six years have resulted in significant and long lasting improvements to the overall success and quality of the school. The award was created and initially presented to namesake and industry icon Ray Ward in August 1996.
"I was sitting at the table the night of graduation and Bob Hunter, VMS chair, started talking about the recipient," Marion said. "I had no idea it was me, but when he said the recipient had been teaching nine years, I thought to myself, 'I've been here 9 years, umm.' Once he started talking about Mississippi State, the cuss jar and the fact I was friends with Saved By the Bell's Mr. Belding, I figured it out.
"It was quite moving. Ray taught me when I was in school in the early 90's. After coming to teach, I sought him out and made a point of getting him to tell me some Bill Graham stories. He was super committed to VMS and when I went through the chairs, he sent me a file of documents of ideas that he had collected over the years to improve the school. I was saddened to hear of his passing, but I know his legacy will live on at VMS. As overwhelmed as I was, I did have a sad moment that I couldn't call Ray and let him know.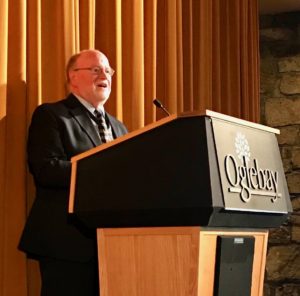 Marion is also very respectful of the list of winners, the school itself, and what it all means to an industry he loves.
"I feel I am in rarefied air with the other winners," he said. "The folks who have led VMS are a special bunch who have done so much to advance the venue industry. The fact that such a great program is put on by volunteers with support from IAVM staff speaks to the commitment of the Regents. My annual trek to Wheeling is one of the highlights of my year. The energy of the students and instructors charges my batteries like nothing else."