Before Michigan State University and the University of Georgia played a recent exhibition basketball game at the SMG-managed Van Andel Arena in Grand Rapids, Michigan, a check for $339,448.90 was presented to representatives from the American Red Cross. The game became a sudden and last-minute addition to the schedule with the intent of raising funds to support disaster relief efforts.
Proceeds from the game will be collectively donated by both the universities and SMG/Van Andel Arena to the American Red Cross, with the funds being split equally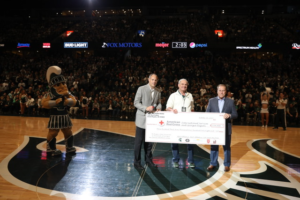 between Georgia's designated Red Cross – Georgia Region and Michigan State's designated Red Cross – International Services. After tickets sold out almost immediately, SMG, MSU, and Georgia staff received confirmation that the event would be a worthwhile endeavor.
"We had confidence that the West Michigan community would respond to this event in a big way, and they certainly lived up to the expectations," said SMG Regional General Manager Richard MacKeigan. "It had to come together very quickly, but the quality of the event paired with a great cause made this something we really wanted to be a part of."
"We know West Michigan loves their Spartans, and we were certain that this community would jump at a chance to support communities recovering from recent disasters," added Grand Rapids-Kent County Convention/Arena Authority Chairman and MSU alumnus Steve Heacock. "It's a gratifying feeling to see the success today."
With news of the possible event breaking on Monday, October 23, it left only six days to bring together what typically takes months to achieve. "I can't say enough about the staff on all sides for making sure this event happened in such a short span," MacKeigan said.
Organizers had to plan everything in a very limited time frame, including securing a basketball court for the game and having it arrive in Grand Rapids on time. Michigan State volunteered to bring their floor for the game, and without the necessary transportation to have it delivered, Meijer stepped in to donate semi-trucks and cover expenses to haul the court west to Van Andel Arena.
Both teams pledged to cover their own transportation and operational costs as well in order to achieve a maximum donation total possible from the event.