San Diego City Council has voted to select the Midway Rising team as the winning bid to transform the Californian city's 48-acre sports arena site.
City Council members voted 7-1 to effectively rubber-stamp the selection of Midway Rising. The consortium featuring venue operator Legends was last month recommended to lead the multibillion-dollar San Diego Sports Arena redevelopment project by Mayor Todd Gloria and other influential officials.
The Midway Rising group, which also features housing partners Chelsea Investment Corporation and Zephyr, along with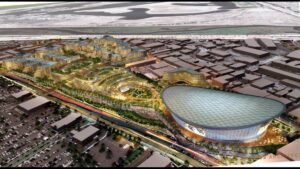 Safdie Rabines Architects, was backed ahead of this month's meetings when elected officials had to nominate their pick of three contenders.
"This approval is a major step forward in our goal of revitalizing the Midway District with much-needed affordable homes along with a world-class entertainment venue and great amenities for the community," Gloria said in a statement after the vote.
"The Midway Rising team has not only the most compelling vision for re-using the site, but also the experience and financial wherewithal to execute."
Along with a new 16,000-seat arena to replace the current venue which opened in 1966, Midway Rising has proposed 2,000 housing units deed-restricted for low- and very-low-income families, 250 middle-income units and 2,000 market-rate units. Its commitment to affordable housing was said to be a key reason why it was selected.
Elsewhere, the project is also set to include a 200-room hotel, 4,500 parking spaces and 20 acres of plaza and park space, including 4.2 acres of rooftop parks. The vote marked the end of a long-running process that has met significant challenges along the way.
Once an exclusive negotiating agreement is signed, the City and Midway Rising will have around two years to agree lease and development terms. Commenting on the news, Bill Rhoda, a project development executive with Legends, told the San Diego Union-Tribune: "The Midway Rising team is grateful to the San Diego City Council for voting to move forward with Mayor Gloria and city staff's recommendation.
"We are committed to delivering an inclusive, affordable, and economically vibrant community that includes 2,000 affordable homes, 20-plus acres of new parks, 8,500 jobs for working families, and a modern sports arena for all San Diegans."
Photo Credit: Safdie Rabines Architechts