The Milwaukee Brewers have played their home games in Miller Park since it opened in 2001, but the stadium's name will change after the 2020 season thanks to a naming rights deal with American Family Insurance. The Madison-based company takes over naming rights honors in a 15-year deal. The new name of the stadium has not been named nor were financial details disclosed.
"Twenty years ago our company stepped forward to help keep the Brewers in Brew City USA, a move that built on our longstanding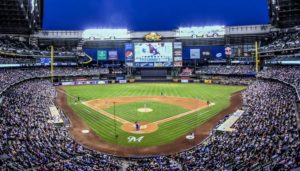 relationship with the team and our commitment to Wisconsin – whether that's at Packers and Bucks games, at Summerfest and the State Fair or in backyards and beer bars," MillerCoors said in a statement confirming the name change. "Late last year another Wisconsin company, American Family Insurance, proactively pitched the Brewers an incredibly rich offer for the future naming rights to Miller Park, and we're proud to welcome American Family to the family we've been part of for generations. While the name on the stadium will change after the 2020 season, we fully expect Brewers fans inside and outside the stadium will continue to celebrate every home run and every strike out with one of our beloved brands."
MillerCoors purchased the naming rights to the 41,900-seat stadium before it opened in 1996. The $40 million deal lasts through 2020. As the company statement indicated, Miller products will remain a staple at the stadium for the distant future.
The venue will continue to be known as Miller Park leading up to 2021. The final five years of American Family's naming rights agreement is predicated on an extension of the Brewers stadium lease. The lease currently runs through the 2030 season.
"We are excited to elevate our partnership with American Family Insurance, a heritage Wisconsin company that has been a sponsor of the Brewers since 2001 and one that shares our core values," added Brewers chairman and principal owner Mark Attanasio.
"This is a significant commitment that reflects American Family's growing presence in Milwaukee, as well as their support of the Brewers. We look forward to all of the benefits this new partnership will bring to both of our organizations and to fans of the team."
As with most naming rights deals, the partnership extends just beyond signage. The Brewers and insurance provider will team to fund community projects, including refurbishing youth and high school baseball fields. The two organizations will also work on marketing and promotional initiatives to enhance the fan and customer experience in both the stadium and in the community.
There has been plenty of chatter about the name change in a city where the team name and beer just naturally go together, enough that team COO Rick Schlesinger said to MLB.com, "Here's the thing: We love having our fans' views. The fans have passion about everything Brewers, and that includes the (stadium) name. What I would say to fans is they have some time to get used to it. We're going to be respectful with the name and with our heritage. Miller beer is a prominent part of our experience here, and I don't see that changing."