By Kristen Durst
Monona Terrace Community and Convention Center in Madison, Wisconsin, is celebrating its 25th Anniversary. The Frank Lloyd Wright designed facility opened in July 1997 after extensive civic debate. In its first 25 years, Monona Terrace has generated over $697 million in economic impact from conferences and conventions, held over 16,000 events, and welcomed nearly nine million visitors and attendees.
Monona Terrace is marking the special occasion with a free community celebration on Saturday,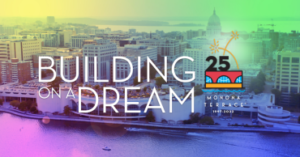 July 23 at its William T. Evjue Rooftop Gardens. The event will feature local and regional bands,
dance performances and conclude with a spectacular drone show over Lake Monona.
"Monona Terrace has seen tremendous growth in our first 25 years, just a glimpse of what the
future has in store," said Executive Director Connie Thompson. "This celebration is a thank you to the community for their support and the essential role they've played in our success."
Kristen Durst is Community and Public Relations Manager for Monona Terrace Community and Convention Center.