By R.V. Baugus
While lounging on the sofa the other night watching an NFL game while at the same time nursing a cough that doubled as a bullhorn and sent the wife and dogs scurrying for cover every time I unleashed a booming salvo, I watched a play unfold that happens over and over again in football played at any level.
Quarterback takes the snap out of the shotgun formation. Defensive lineman sheds a block and comes barreling at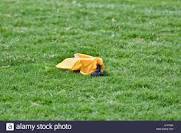 the quarterback with bad intentions. Too pressed to even try and escape the oncoming freight train, quarterback just flips the ball forward to avoid not only a sack but possibly some lost teeth in the process. The referee standing behind the quarterback surveys the play and then tosses a yellow flag in the air. Uh oh.
"Intentional grounding, offense, number 12," the ref shares with the world.
The call was correct in this instance, while there are other times when these types of calls can be strongly debated. That, friends, is not the point of what you have read up to this sentence.
As a sports fan, I have heard "intentional grounding" over and over for years without giving it too much thought. But in my Mucinex DM-induced stupor on the couch, the philosophical side of me came out.
Intentional grounding. Intentional grounding?
I am not even bothering to look up the definition of intentional before sharing with you that MY short definition of it is … purposeful. There, that's it.
The quarterback purposefully made his play to avoid a worse scenario, even at the risk of a penalty.
Intentional comes up a lot these days in our industry when it comes to hiring, promoting, seeking speakers for conferences, etc. I want to credit Julia Slocombe, the past co-chair of the Diversity & Inclusive Leadership Committee, for being the first that these ears heard use the word intentional to drive home a point.
"We need to be intentional going forward as an association and an industry when it comes to people and making decisions," I would paraphrase Julia.
Intentional goes so far past "lip service" that it isn't even funny. I am sure you remember hiring quotas, which for the most part meant satisfying numbers. I am not saying that was wrong or bad and to the contrary was a step in the right direction, but organizations were still not INTENTIONAL in seeking out pools of candidates. Does "we have to meet quota" sound like intentional hiring?
I believe that we as IAVM and we as an industry are engaged more than ever on that path of intentionality. There is much greater demonstration on the front end to seek out more diversity and inclusion at IAVM's various conferences, and we rely a great deal on suggestions from members.
It appears, too, from the news releases and emails that I receive that a greater talent pool of diverse individuals are not only finding their way into jobs, but more are actually taking on top positions. This is momentum that must be continued going forward and requires us all to be, yes, intentional, and not take the foot off the brake.
I would never expect a quarterback to turn around to a referee and mutter, "But ref, I was at least being intentional."
Bad thing in football, good thing in the workforce of today and tomorrow.