Monumental Sports & Entertainment (MSE) has teamed up with professional services company KPMG to reimagine the arena suite concept at Capital One Arena.
MSE, which owns Capital One Arena, along with its two major league teams, the NBA's Washington Wizards and NHL's Washington Capitals, has transformed an existing suite at the venue into the newest KPMG Ignition Center.
KPMG Ignition is a specialized team that seeks to think and work differently to produce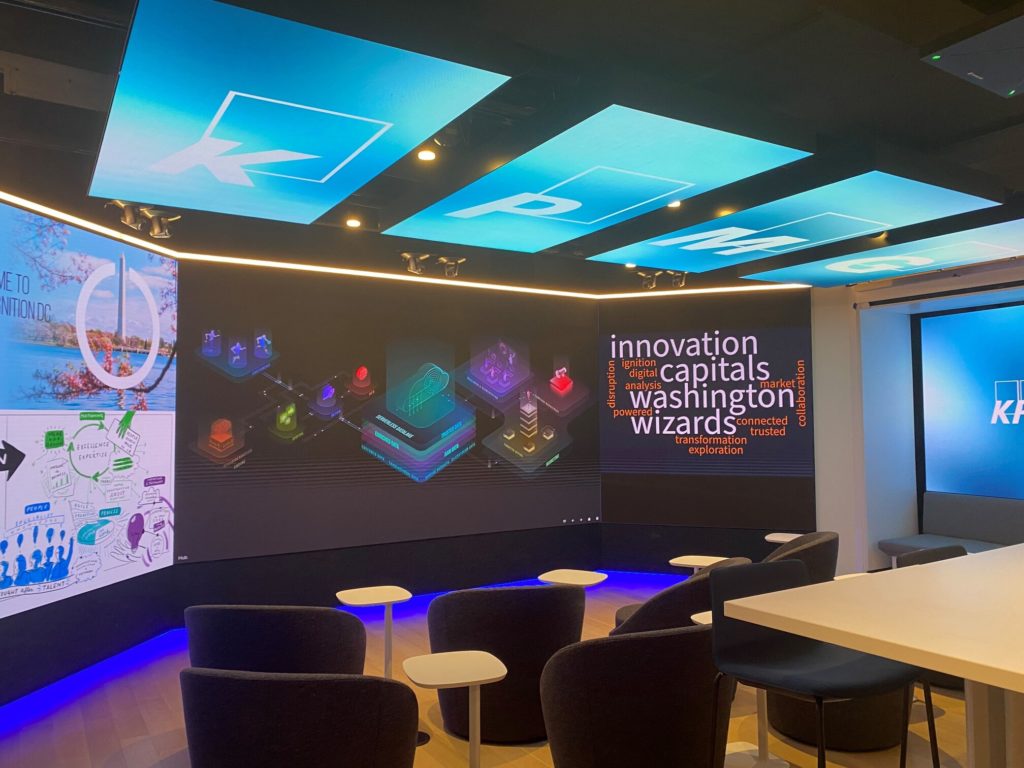 differentiated results for the company's clients. The Capital One Arena site is the latest Ignition Center, joining other facilities in Atlanta, Chicago, Denver, New York, and KPMG Lakehouse in Lake Nona, Florida.
The renovated suite is equipped with the latest technology and will serve as a meeting place for KPMG and its clients to collaborate and solve business problems together, 365-days-a-year, at any time of the day, regardless of the evening game scheduling of the Capitals, Wizards or other live concert or event. When a game, concert, or event is hosted in the arena, KPMG will also be able to offer traditional live-event hospitality to its clients.
"When KPMG and the senior executives at Monumental Sports came together on this idea, I thought it was brilliant," said Ted Leonsis, founder, chairman and CEO of Monumental Sports & Entertainment.
"Taking a suite normally used to host clients to watch Capitals and Wizards games and innovate within it – bringing customers into an environment that's unexpected and creating a destination to engage people to think differently – is such a big idea.
"This reinforces the notion that arenas play a central part in the business community's ecosystem — and that we are now creating a new real estate category of shared workspace — turning suites normally used a few hours per game day into workspace, all day and year-round.
"I believe the shared space will be seen as a very economical investment given the dual benefits of suite usage for entertaining at games and then office space for meetings, working, and demo centers for the benefit of customers.
"This reimagining of suite space is another innovation our team is bringing to our community of business partners. So, I congratulate the leaders at KPMG for being a first mover and an exemplar in finding new uses for the convening operation we have built, and I'm sure others will soon join them."
The concept, creating the most experiential Ignition Center yet, came about through KPMG's business need to engage in-person with its clients in an innovative and unique setting and MSE's pursuit of developing additional daypart uses for an otherwise dormant arena.
The 28-person 'mega-suite' has 500-plus square feet of open space that can be transformed to meet clients' needs. From its walls to its furniture, the suite's modular and movable functionality seeks to create a unique room design for each business session.
The suite is fully equipped with cutting edge technology. The central video wall displays stories and demonstrations to facilitate discussions. Interactive screen displays are scattered throughout the room, along with high-resolution monitors on the ceiling and at the entryway that showcase relevant visuals during meetings. Plus, video streaming enables people to join sessions from anywhere in the world.
Tim Gillis, KPMG Washington DC area office managing partner, said: "This is the first partnership of its kind – an innovation space in a sports and entertainment facility – and a forward-thinking blueprint for arena suites of the future.
"Innovation can happen anywhere, anytime. KPMG Ignition – DC will provide an opportunity to engage with clients in a collaborative environment outside of their traditional office spaces to lean into disruption and uncover opportunities to create value.
"The KPMG brand is synonymous with disruptive transformation and innovation. This partnership with Monumental Sports & Entertainment is a representation of how we are transforming our own business and how we bring that same approach – and our ever-evolving capabilities – to help organizations in the DC area do the same."
MSE in January announced plans for District E Powered by Ticketmaster, a new multi-purpose live-event venue next to Capital One Arena. The space will span nearly 14,000 square feet and offer year-round immersive experiences in esports, music, event programming, and community events, along with pre- and post-event activations for fans attending Capitals and Wizards games or other events.
In May 2021, a William Hill sportsbook officially opened at Capital One Arena, becoming the first sports betting venue to launch within a US professional sports facility.