By R.V. Baugus
We hope you read last week's blog about IAVM member venues that serve as home to NBA teams and their plans for the new season with regards to fan attendance. We had a great response to some questions as the season has now started and most recently heard from two more esteemed members at NBA venues and would like to share their plans going forward.
Kim Stone, General Manager of Chase Center in San Francisco, home to the Golden State Warriors, said that her venues has submitted a plan to the city of San Francisco "that included a robust COVID-19 testing program where we would test every employee and fan before they entered the arena and allow for 50% capacity."
Stone added that with San Francisco's rapid rise in COVID-19 cases, "we're in ongoing discussions with health officials around the appropriate timing to welcome fans back to the venue. We are hopeful that at some point, we will be at a place where we can bring fans back into the building this season."
Indeed, NBA venues in Los Angeles and Sacramento are also looking at no fans to begin the season, but as Stone pointed out, the goal and hope is to return fans at some point in the 2020-21 campaign. As for changes at Chase Center, there are plenty, of course, set in place for the day when fans do return.
"We created a Health and Hygiene department that focuses on public health, environmental, and disinfection issues and have greatly enhanced our safety and cleaning protocols," Stone said. "We've invested a lot in our infrastructure adding plexiglass barriers throughout the arena, touchless fixtures in restrooms, we are now 100% cashless and did some upgrades to our HVAC system to ensure the best air quality possible."
Stone said that a unique testing program was rolled out for employees, media, vendors, and other individuals who require access to the venue where everyone needs to test negative prior to entering the arena. "In addition to the infrastructure improvements, we will also have a dedicated team that will be responsible for constantly walking the venue to audit cleanliness levels and ensure proper sanitizing by staff and have implemented the daily use of electrostatic sprayers in high-touch areas," she said.
It is this program that Stone sees as the biggest change at the venue. "It was an incredible achievement for our staff, who spent the last few months developing the plan, and it ensures Chase Center, coupled with our infrastructure improvements and enhanced safety protocols, is the safest indoor environment possible," she said.
In an ominous twist, the Oklahoma City Thunder's season opener in Houston could not be played as the host Rockets were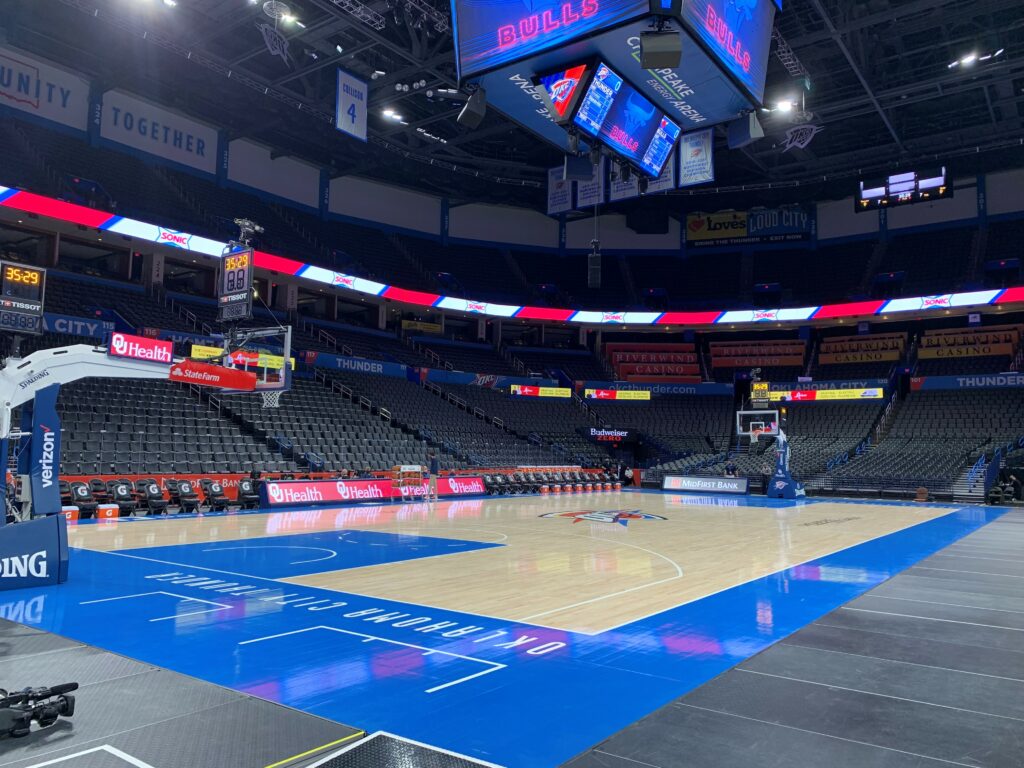 not able to field the minimum eight players due to COVID issues. In OKC, meanwhile, General Manager Chris Semrau at Chesapeake Energy Arena said that the venue will also delay opening to fans and will begin with no guests. Semrau added that when fans do return it will likely be at 25% capacity and set up in pods.
"We made extensive investments to elevate the event experience and to be a safe as possible for guests," Semrau said. "Some of the most noticeable changes include: contactless entry with ticket scanners, x-ray machine for all bags, cashless transactions at all POS, reconfigured restaurants to minimize amount of contact in the dining areas, touchless faucets and light fixtures, improved HVAC elements, Hepa air systems in small rooms, seat blockers on unsold seats to provide clear distancing, etc."
Staff will go through specific training, pass a health assessment prior to entering the facility, and provided a boxed meal upon arrival opposed to the employee dining room. The biggest visual changes, Semrau said, will be contactless ticket and bag scanning, which limits the physical touches between guests and staff.
Oklahoma City, you might remember is where the sports world stopped on March 11 of this year. "It was at our game against the Utah Jazz when we received a positive test on a Jazz player and had to immediately stop the game," Semrau said. "That was the first major domino to fall in the industry and since then, over 100 members of the Thunder and ASM Global have collaborated to create one of the most detailed reopening plans in the country and we are excited to apply it and welcome guests back soon."