From PRNewswire.com
The New Orleans Ernest N. Morial Convention Center recently installed two new electric vehicle (EV) charging stations, each equipped to accommodate two cars at a time. The new EV charging stations are located in Parking Lot F at 400 Calliope Street near the facility's Transportation Center entrance.
Conveniently located for Convention Center employees, locals, and visitors who drive electric vehicles,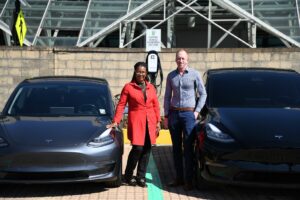 the EV charging stations are complimentary for parking lot users. They are also part of a growing trend in the New Orleans hospitality sector. Multiple EV charging stations have popped up around downtown parking garages and hotels.
"Having more electric vehicle charging stations in the tourism hub that is New Orleans is not just good for the environment, it's also good for business," said Convention Center President Michael J. Sawaya. "We are happy to go the extra mile to give EV owners the convenience of charging their vehicles at the Convention Center where our team remains enthusiastically committed to the kinds of sustainable practices and improvements that helped us achieve LEED Gold certification in 2022."
Well on its way to becoming an eco-friendlier place for visitors and locals who drive electric vehicles, New Orleans is stepping up its game for EV owners as well. In August 2022, The City of New Orleans, in partnership with Entergy New Orleans, launched the Electric Vehicle Charger Program, which will provide 30 charging stations at 25 locations across the city, primarily at public parks, libraries, and NORD facilities.
Electric vehicle adoption in the United States is growing at a record pace, and in Louisiana EV registrations were up 63% in 2021, as compared to 2020.
Pictured: New Orleans Ernest N. Morial Convention Center staff members Rocsean Spencer, Chief Diversity Officer, and Brad Feichter, Event Manager, charge their electric vehicles at the new charging station.