By TheStadiumBusiness
The Arizona Cardinals of the National Football League are searching for a new naming-rights partner for its home stadium after opting to revise its agreement with current sponsor the University of Phoenix. The 63,400-capacity venue has been known as the University of Phoenix Stadium since opening in 2006 but it will soon have a new name.
The Cardinals confirmed that its relationship with the university would be continuing, but said that the stadium's name would be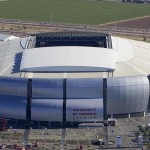 changing "at some point in the future." The facility will continue to be known as the University of Phoenix Stadium while the Cardinals search for a new sponsor.
"We look forward to continuing our relationship with University of Phoenix while at the same time are excited about identifying a new naming-rights partner for the next era of the stadium's success," Cardinals executive vice-president and chief operating officer Ron Minegar said in a statement. "Our partners at University of Phoenix have been a major factor in the building's success which has not only been a tremendous source of community pride but also an unparalleled economic driver for Arizona."
The university will continue to serve as the Cardinals' official education partner and support team initiatives such as the Focus to the Finish scholarship, MVPs in the Classroom, Classroom All-Stars and Donate Educate.
Joan Blackwood, senior vice president and chief marketing officer for the university, said, "We have determined it's best to evolve our partnership and shift away from stadium naming rights going forward."
Since opening in 2006, the University of Phoenix Stadium has hosted 11 Fiesta Bowls, two Super Bowls, three college football national championship games, one Pro Bowl and the NCAA's Final Four event.
The University of Phoenix reportedly agreed to pay a fee of $154.5 million over the course of 20 years when acquiring the naming rights to the venue in 2006.