The New Orleans Ernest N. Morial Convention Center conducted a Fire Drill on August 8 in cooperation with the New Orleans Fire Department and New Orleans Emergency Medical Services. The 350 staff members of the Convention Center participated in the exercise in order to demonstrate their understanding of emergency evacuation procedures. The outcome of the exercise was to enhance communication systems, strengthening intra- and inter-agency coordination and continue to create and maintain a safe environment for internal and external customers.
The New Orleans Fire Department rated the drill Excellent.
The emergency scenario simulated a fire due to malfunctioning equipment near the second floor meeting rooms. The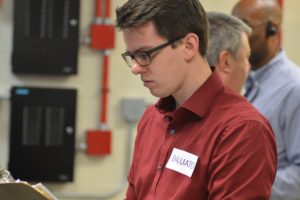 alarm was sounded at 9 a.m., the building was evacuated, and the drill was ended just over 5 minutes later. This exercise demonstrated how Convention Center staff will be prepared to assist the nearly one million visitors attending events annually in the event of an emergency evacuation.
"We are very pleased with the results of this drill. The evacuation was swift and handled in a safe and orderly manner," said Adam Straight, Vice President of Operations for the New Orleans Ernest N. Morial Convention Center. "This exercise is just one of the many precautions we take in order to make sure emergency situations are managed with resolve and the professionalism that our guests deserve."
Last year, the New Orleans Fire Department toured safety-critical areas of the Convention Center to become familiar with its fire prevention, detection, and emergency response initiatives. This fire drill is yet another step in the Convention Center's long-standing initiative to keep its guests and staff safe.
Photo: Exhibit Services Coordinator Austin Deeks evaluates the response to the fire drill at the New Orleans Ernest N. Morial Convention Center's Public Safety Base at Julia Street.