From Convention Center staff
The New Orleans Ernest N. Morial Convention Center has named Rocsean Spencer to the position of Chief Diversity Officer (CDO). The Center recently created the position to reflect their commitment to implementing diverse, equitable, and inclusive practices, providing equal opportunities that drive innovative solutions for its internal and external communities. According to the International Association of Venue Managers, this is the first convention center in the nation to establish the position of CDO.
Spencer will be tasked with supporting the organization's policies and directives that mitigate bias,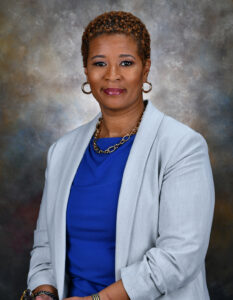 increase equitable outcomes, and foster respect and inclusion, and ensure that the communications and People Services programs reflect the organization's Diversity, Equity, and Inclusion (DEI) goals.
Spencer most recently served as the Convention Center's Small and Emerging Business (SEB) Program Director, a position that was created in 2019 to help promote the importance of diverse and small business inclusion at the Convention Center. Since inception of this program over $40 million in contracts have been awarded to small and emerging businesses.
Spencer came to the Convention Center from the City of New Orleans, Office of Supplier Diversity. She served as Certification Officer, where she reviewed Disadvantaged Business Enterprise (DBE) certification applications and attended State and Local DBE (SLDBE) program outreach events. She was later promoted to Compliance Officer, where she managed a portfolio of $150 million of Public and Private Sector funds. In that role, she also supervised the DBE program, where she managed the SLDBE Certification Department as SLDBE Certification Coordinator.
"We have worked very diligently over many years to position the New Orleans Ernest N. Morial Convention as an employer of choice through establishing and maintaining a work environment that is inclusive, diverse, appealing and inviting, with contemporary business practices and philosophies that drive us to achieve our mission," said Convention Center President Michael J. Sawaya.
"It is our long-term vision to continually evolve with a leading-edge philosophy that keeps us at the forefront of convention centers around the nation and builds on our stellar reputation as a world-class visitor destination that is Built to Host," Sawaya continued. "New Orleans enjoys a long-standing reputation as being inclusive with our unique culture, art, architecture, food, and people. This important initiative follows this well-earned reputation and furthers our mission to be a leader in the business community. To that end, we take great pride at being the first Convention Center to establish the position of Chief Diversity Officer and adopting a guiding principle where our convention center is Built to Host. For Everyone."