By The TicketingBusiness News
Fans attending shows at the Manchester Arena in the United Kingdom can now use a full range of digital ticketing services for the first time thanks to a new partnership between operator SMG Europe and Ticketmaster.
SMG Europe, which announced it was switching from Eventim to Ticketmaster last year, said the enhanced service means the process of buying tickets is safer and ensures that tickets are being bought and used by real fans.
Fans going to the Manchester Arena can now receive tickets directly to their mobile phones, send tickets securely to friends to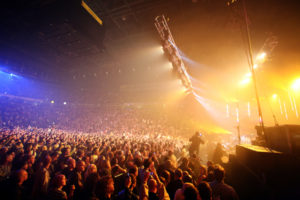 enter the 21,000-capacity venue separately and make use of Ticketmaster's fan-to-fan marketplace to re-sell unwanted tickets to other gig-goers.
Other benefits include the introduction of animated tickets with moving digital panels, which prevent people from attempting to use screenshots to enter shows while allowing venue staff to immediately assess the authenticity of tickets at the gate.
"We know fans want the buying and using of tickets to be as simple, straightforward and safe as possible, which is why we are excited to begin rolling out digital tickets at our flagship venue, the Manchester Arena," said John Sharkey, SMG Europe's executive vice president (European operations). "Being able to partner with Ticketmaster to do this also helps to give fans the peace of mind that while they can now receive their tickets straight to their mobile, it is being powered by a ticket agent they know and trust."
It was announced last year that venue operator SMG Europe would partner with Ticketmaster at the expiration of its existing ticketing contract with Eventim. The deal also includes Leeds' First Direct Arena and Newcastle's Metro Radio Arena.
"We are committed to bringing the benefits of digital tickets to fans across the country," said Andrew Parsons, managing director of Ticketmaster UK. "Partnering with SMG Europe to introduce the technology at the UK's largest indoor venue is a huge step in our journey and we are proud to be here given our strong presence in Manchester."