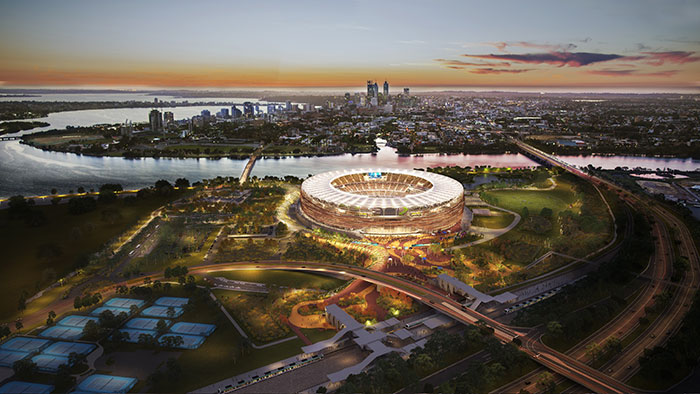 WESTADIUM revealed today its design for the new Perth Stadium in Australia. The facility will feature five tiers, more than 70 food and beverage options, and LED lights that will show home sports team colors at night.
"This is a very exciting day for all West Australians, and I am delighted to reveal the design of this world-class venue, which will play a pivotal role in the transformation of Perth," said Premier Colin Barnett. "The winning design successfully meets the state's requirement for a world-class, multi-purpose stadium within a parkland setting, and does so with a uniquely Western Australian focus. The seating bowl maximises stadium atmosphere, gives fans exceptional views, and brings them close to the action, providing a special home ground advantage for our teams. I'm also particularly pleased to announce that the successful negotiations for this contract have confirmed that the capital cost of the stadium is around AUS$40 million less than what was originally budgeted."
Sport and Recreation Minister Terry Waldron said that a focus on the fan experience was a priority in the stadium's design.
"The emphasis on delivering a venue that has the fan experience at the very heart is very much in evidence in this design," Waldron said. "Seat sizes are generous, and each one will have a cup holder; fans will enjoy access to more than 70 food and beverage outlets; and those requiring higher levels of access—such as people in wheelchairs—will be able to use designated seating platforms across all seating tiers.
"The technology provisions include 4G Wi-Fi coverage across the stadium and precinct, two giant 240sqm video screens—some of the biggest in the country—and a further 1,000 screens throughout the stadium so fans never miss any of the action," he continued. "The stadium will include the widest range of seating and hospitality options of any stadia in Australia."
The design of the sporting and recreation precinct surrounding the stadium is inspired by Dreamtime stories and the connection with the Swan River and will have three distinct recreational spaces encouraging yearly use by the community.
A covered Community Arbour, linking the stadium station to the river, will represent Noongar community stories.  The western section of the precinct will be home to an amphitheater, two children's playgrounds, picnic areas, and a boardwalk, while the community sporting oval to the north will be available for public use on non-event days, as well as providing event-day parking.
The new Perth Stadium will be open in time for the 2018 AFL season.