Samsung has signed a multi-year deal with the New York Mets to transform the digital screens at the Major League Baseball team's Citi Field stadium.
As Citi Field's official display and technology solutions partner, Samsung Electronics America will look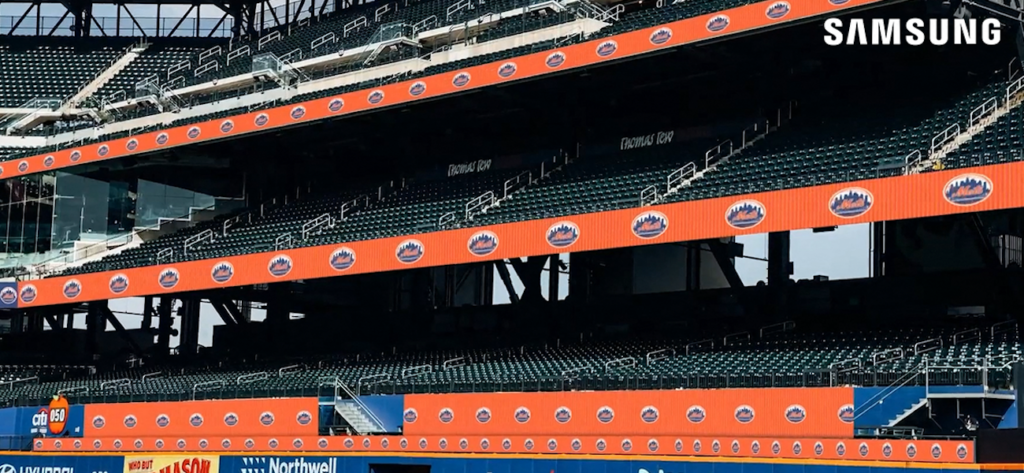 to create an interactive fan experience at the stadium.
Work on the two-year project will begin in 2022, with the upgrades expected to include new ribbon boards and more than 1,300 LCD screens throughout Citi Field. A new larger and enhanced center field scoreboard will also be fitted in time for the 2023 MLB season.
Samsung will deploy the full breadth of its display portfolio and technology solutions throughout Citi Field. According to Samsung, its services will create the first "connected venue" in MLB.
When complete, Citi Field will feature 4,000 square feet of direct-view LED screens in public spaces, a ballpark-wide IPTV system carrying nearly 100 sports and entertainment channels, double the number of slow-motion replay systems, three times as many cameras for increased game coverage, and an enhanced and fully upgraded scoreboard to display LED technology and handle 4K video.
"Baseball is one of America's great historical pastimes and thanks to cutting-edge display- and data-driven innovation, we are ushering in a new, exciting era that transforms the ballpark experience and brings fans into the game like never before, said Harry Patz Jr., senior vice president and general manager of Samsung Electronics America's display division. "Technology is central to the way fans enjoy sports, and we are thrilled to bring Samsung's full display portfolio, solutions and expertise to this new era of fandom."
"We are excited and proud to partner with such a worldwide leader and iconic brand as Samsung," added Jeff Deline, executive VP and chief revenue officer with the Mets. "Like Samsung, the Mets have a very loyal and passionate fan base, and the implementation of this state-of-the-art technology is going to provide an enhanced experience and environment for millions of fans that come to Citi Field for many years."
The Mets recently partnered with software company Wicket to bring facial authentication to Citi Field. The deployment will introduce facial access control for staff and vendors.
Next year, Citi Field will also host six matches played by Major League Soccer team New York City FC. The team will play 10 matches at its usual home, Yankee Stadium, along with one at Red Bull Arena in Harrison, New Jersey.