As of February 14, the number of coronavirus cases has reached 64,473 with 1,384 deaths. For a most recent breakdown by country and other statistical information, please click here.
Most recently, the Chinese Grand Prix has been postponed because of the outbreak of the coronavirus. The race was due to take place in Shanghai on April 19, but Formula One and the sport's governing body, the FIA, made the announcement earlier this week after accepting a request from the meeting's promoters.
"The health and safety of people come first," said Chase Carey, F1's chief executive, at a conference in Baku.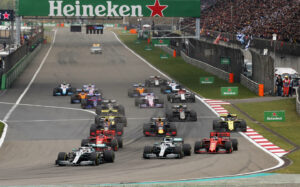 F1 and the FIA prepared a joint statement which read: "As a result of continued health concerns and with the World Health Organization declaring the coronavirus as a global health emergency, the FIA and Formula 1 have taken these measures in order to ensure the health and safety of the travelling staff, championship participants and fans, which remains of primary concern."
Shanghai is located 500 miles from Wuhan, where the outbreak began. The numbers of working personnel and fans is typically large for a race of this magnitude. As many as 2,000 people across teams, logistics, staff, hospitality. and broadcasters can be required for a race weekend. An estimated 70,000 people attended the race last year.