The NFL entered a partnership with Caesars Entertainment as the league's first official casino sponsor. Before proclamations come that the world is ending, it should be noted that the multi-year deal does not include sports betting or fantasy football. The arrangement kicks in immediately with the upcoming wild card round of the NFL playoffs.
It remains all about the guest experience as Caesars expects to lean on its vast properties including music and other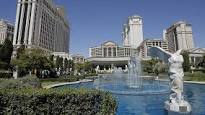 entertainment to create unique experiences at venues. Caesars will have exclusive rights to NFL trademarks in the U.S. and United Kingdom, including the Super Bowl and draft, and will host parts of the 2020 NFL draft.
This is actually not the first foray into the casino world for the NFL, or at least some of the teams in the league, as the Dallas Cowboys, Oakland (soon to be Las Vegas) Raiders, New York Jets, Detroit Lions, Baltimore Ravens, Philadelphia Eagles, Chicago Bears, Seattle Seahawks, New Orleans Saints, and Atlanta Falcons have in place various ad deals with casinos.
The ruling by the Supreme Court has also undeniably played a hand in recent developments. Sports betting has expanded to other states following the ruling, and MGM Resorts signed on as the official gambling partner of the National Basketball Association, Major League Baseball, and the National Hockey League.
Most recently, of course, came the move commencing in 2020 of the move of the Raiders from Oakland to Las Vegas. This comes on the heels of the city being awarded the Golden Knights of the NHL in 2017, the first major sports franchise for Las Vegas. The city will even host the 2020 draft and show off its new $1.9 billion stadium for the NFL franchise.
With this latest deal, it becomes easier to see others lurking on the horizon for the league as the landscape continues to change.