By Mary Klida
Having worked in the Detroit area for more than a decade and received her degrees from Michigan universities, Nicole Johnson is right at home in her new position as Director of Human Resources of Huntington Place, Detroit's convention center and economic engine of the Southeast Michigan community.
Previously working with Fortune 200 companies across a diverse range of industries, including national retail, digital marketing, and global travel, Johnson's expertise in leading human resources change initiatives has been recognized in various industries such as gaming and entertainment, manufacturing, k-12 education, and Detroit Windsor Tunnel, a major North American Border Crossing.
This wide-range experience brings Johnson's notable expertise to the venue's Human Resources program in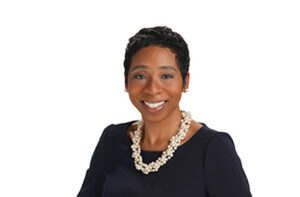 labor relations, health and safety, leadership development, coaching, benefits and leave administration, instructional design, technical recruiting, and HRIS and payroll systems implementations, recruiting, training and development, and labor contract negotiations.
"I am honored to join Huntington Place as the Director of Human Resources and look forward to working collaboratively to create an inclusive and empowering work environment where all team members feel like they belong," Johnson said.
Human Resources change initiatives are increasingly becoming top priority for convention centers and other venues coming out of COVID and rebuilding their workforces after venue closing and massive layoffs. Diversity, Inclusion, Equity (DEI) and flexible work schedules have become a top priority for employees, along with opportunities to create better work/life balance.
When the venue was closed during the COVID-19 pandemic, the center furloughed 60% of staff. Of those that remained, remote work was established where possible. The slow return to business and rehiring of essential staff created opportunities to implement new hiring strategies and workforce improvements.
"Diversity is our superpower BUT Inclusion is really the secret sauce that takes us to the next level," said Karen Totaro, CVE, Huntington Place general manager. "All members of our team have a voice and are treated with respect and encouraged to share their perspectives. It is not just a listening exercise; we act upon our team's great ideas, no matter their position in the venue, what they look like, or what they believe."
The event industry, including the nation's convention centers, have been tasked with making health and safety of employees and visitors priority one, along with rebuilding a workforce with candidates that now have very different expectations of their employers.
The need for a new hiring strategy became apparent during the "great resignation" and work-from-home habits developed during COVID-19 outbreak. Employees are more prone to set limits to their contributions at work such as work hours, scope of tasks, and fairness on how their talent is utilized. Candidates are more often insisting on these working conditions before accepting jobs.
"As we navigate the post-COVID hiring landscape, I am excited to implement new strategies and initiatives that prioritize diversity, equity, and inclusion, and at the same time foster exceptional guest experiences, thus driving the growth and success of the venue," Johnson said.
Most recently, Johnson served as Senior Director of Human Capital for Promise Schools, former Charter Management Organization for Jalen Rose Leadership Academy. In this role, she was responsible for the development and execution of human resources strategies, programs, and policies. Johnson's passion is for human resources, coupled with her expertise, experience, and ability to lead and execute complex human resources initiatives.
Johnson holds a Bachelor of Business Administration degree in Management and a Master of Science in Human Resources and Organizational Development degree from Eastern Michigan University.
"We are so excited to have Nicole join the team. She brings the skills and experience we know will take Huntington Place to the next level in human resource management," Totaro said. "Our team continues to thrive and with Nicole's experience as a change agent we know there will be many more opportunities ahead for our team."
Mary Klida is Senior Marketing & Communications Manager for Huntington Place.