The New Orleans Ernest N. Morial Convention Center has received a "Safest 70" award from the Louisiana Workers Compensation Corporation (LWCC), the largest workers' compensation carrier in the state. The award acknowledges excellence, outstanding performance, and commitment to workplace safety, and is given to the top 70 of over 16,000 entities insured by LWCC.
The New Orleans Ernest N. Morial Convention Center was recognized based on the effectiveness of their safety efforts in preventing injuries and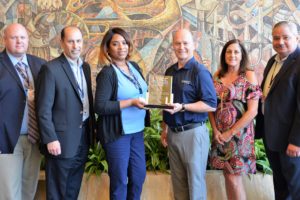 maintaining a consistent workplace safety history in 2017.
"It is an honor for our facility to be recognized by LWCC," said Michael J. Sawaya, President and General Manager of the New Orleans Ernest N. Morial Convention Center. "Providing a safe work environment is our highest priority and is a team effort. We consider our employees internal customers and value their input while collaborating on ways to continuously improve our facility. Philosophically, this in turn results in a safer environment for our patrons/external customers as well."
Left to right: Brett Slocum, Assistant Director of Public Safety; Tim Tumminello, Director of Human Resources; Tanya Smith, Human Resources Coordinator; Darren J. Kimball, Lead Safety Services Consultant, LWCC; Susan Paisant, Client Relations Representative, LWCC; Mark Kaufman, Director of Public Safety.