By Monica Lewis
After a nationwide search, Mayor Brandon Scott has nominated Mac Campbell, CVP, as the Baltimore Convention Center's new Executive Director. Campbell's appointment comes following the September 1 retirement of Peggy Daidakis after 49 years of service to the City of Baltimore.
"I am excited to welcome Mac back to Baltimore and look forward to seeing him lead the Baltimore Convention Center," said Mayor Scott. "Coming out of the pandemic, it's clear that our city's tourism industry is bouncing back better than ever and it's important that someone with Mac's experience and innovative approach to venue management be here to keep the momentum going."
Campbell began his career at the Center in 2012 as the Director of Client Services, bringing years of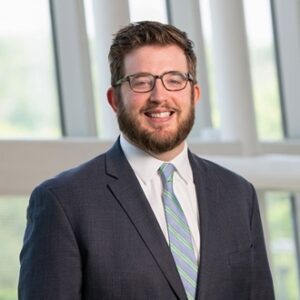 experience from his previous role as Operations Manager at Strathmore Hall Foundation. As the Center's Director of Client Services, Campbell managed over 70 employees in charge of event operations. He was promoted to Deputy Director in 2017 by then Executive Director Daidakis and was responsible for leading the Center's senior staff team focusing on employee engagement, promotion, and sales. Additionally, Campbell aided the executive director by being heavily involved in making long-term decisions that would directly impact the organization's mission, vision, capital improvement projects, and corporate social responsibility.
In 2021, Campbell accepted the position of Vice President of Operations at the Strathmore Hall Foundation and left the Center.
"I have watched Mac grow and mature at the Center since 2012. He has earned this opportunity, and I know that he is very excited to return and continue to work to move the organization forward," Daidakis said.
Sustainable and community-based initiatives are a priority for Campbell at all venues he has worked. In Baltimore, developing new programs led to the facility receiving the APEX/ASTM Green Meetings certification in 2015 and the Maryland Green Registry Leadership Award in 2019. Campbell created opportunities for the Center to partner with local charities in Baltimore through staff volunteer work and the diversion of unused goods and food products from conventions. These efforts continue to allow the Center to support the mission of several local not-for-profit organizations.
His work in environmental and community stewardship led the Events Industry Council to award Campbell with their Pacesetter award in 2017 as a thought leader in the event industry.
"I am grateful for the opportunity to return to Baltimore and the Convention Center to continue our important work alongside a fantastic team. The economic impact the Center helps generate for the City and State is vital in supporting not only hospitality and tourism but assists in funding essential services that all Baltimoreans count on. I look forward to ensuring that the Center is poised to continue being 'The Center of it All' for decades to come," Campbell said.
Campbell holds a Bachelor of Arts Degree from Elon University and received his Certified Venue Professional Certification in 2017. The Center staff looks forward to welcoming him back on January 3, 2023.
Monica Lewis is the Senior Director of the Mayor's Office of Communications.