Audiovisual systems manufacturer Daktronics has been appointed by North Carolina State University to manufacture and install a new video display at Wayne Day Family Field at Carter-Finley Stadium.
The HDR-capable display will be one of the largest in the Atlantic Coast Conference, spanning more than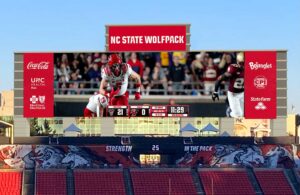 7,100 square feet and featuring more than 6.6 million pixels. It will be installed in the spring.
The display will be located in the north end zone of the stadium and will measure around 43 feet high by 166 feet wide. It will be capable of variable content zoning, allowing it to show live video, instant replays, statistics and game information, graphics and animations, and sponsorship messages.
Corey Williams, Daktronics sales representative, said: "This display is going to be significantly larger than the previous display and will require extensive coordination and engineering to make this project become a reality. We're extremely proud to partner with NC State and their amazing team of people and look forward to being a part of this landmark installation on campus."