The Shenyang New World EXPO in Liaoning province's capital city of Shenyang crossed over into its second year of operations on March 1. The inaugural second year event will be the 20th China Northeast International Dental Equipment & Affiliated Facilities Exhibition Symposium on Oral Health to be held March 16th to 19th, organized by Liaoning North Exhibition Co., Ltd.
The major exhibition to follow March 23rd to 25th, the 2018 Northeast China AD Exhibition & 25th Liaoning AD/Sign/LED Lighting Expo, is scheduled to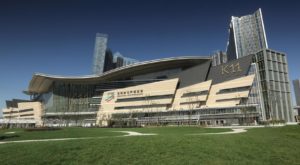 utilize all of EXPO's rental space totalling 28,000 square meters (sqm) and will be organized by Shanghai Modern International Exhibition Co., Ltd.
Following a successful soft opening period during 2017 including nine major exhibitions attended by 1,729 exhibiting companies and over 220,000 visitors and guests, EXPO will begin year two by hosting three major recurrent events during March and April that were held in the same period in 2017.
Diane Chen, EXPO's general manager, said: "The success of EXPO's initial exhibitions during the first year and the interest created by the exhibitors and visitors alike ensure the ongoing potential of EXPO's future exhibition business. Additionally, regional and national conferences are finding the venue most attractive. Its central business district location, direct link to the city's METRO underground system, over 6,700 hotel rooms within three METRO stations of the venue, and state of the art facilities make EXPO one of the most sought after exhibition and conference venues in northeast China."
EXPO opened over a year prior to the adjacent elements of the total project it anchors. That project consists of over 1.4 million sqm of construction space including two adjoining hotels, northeast China's largest retail shopping mall, three residential towers and two future office towers. With the exception of the office towers and one of the hotels, all project elements will be open by the end of 2018.
Accordingly, EXPO has been operating in an extended soft opening period to accommodate the completion of the massive project that is fully funded and operated by New World China Land in association with affiliated operating companies of the New World Group in Hong Kong.
Cliff Wallace, chairman of Shenyang New World (Management) Ltd., said, "I remain confident that EXPO is a model venue for China's second tier exhibition markets and will make significant contributions to the growth of Northeast China's exhibition and meeting industry."