By Jennifer Norris, CVE
On June 27, more than 100 venue professionals and allied colleagues gathered at the SAP Center at San Jose for an IAVM Northern California Chapter meeting. We met at the arena in their BMW Lounge, which is also home to a fish tank containing tropical fish and three live sharks.
The meeting began midday with a delicious lunch provided by Aramark. There were three educational sessions. The first entitled: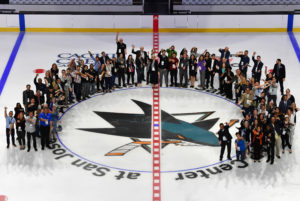 Security Gaps in Spectator for Sports Environments, featured Don Lapham, Director, Domestic Preparedness Support Initiative, Department of Defense, and Joshua B. Hill, Phd, an Assistant Professor of Criminal Justice at The University of Southern Mississippi. Don and Joshua spoke about a current collaboration focusing on safety and security vulnerabilities pre/during/post events, and how to use technology to strike a balance between ensuring everyone is safe and scaring the bejeezus out of attendees.
The second session was a presentation by Steve Clark, CRC (Certified Realtime Captioner), Manager of Home Team Captions (HTC), a Washington, D.C., based real-time captioning company. Steve shared information about ways to prove onsite and remote captioning for individuals and large groups in a variety of settings, including one-on-one settings and conferences, online webinars, civic settings, including live theater performances and commencement ceremonies, and onsite and remote stadium captioning for professional sports teams and universities.
The final presentation of the day was lead by the dynamic duo of Jessica Huang and Aubri Bryan from Expert Quote. Jessica and Aubri led an interactive discussion about the ins and outs of contractual risk transfer and reviewed in detail how to read an insurance certificate and more importantly why all this matters in today's litigious world.
Jason Blackwell, Assistant General Manager at the Paramount Theatre Oakland, led a town hall meeting where attendees discussed the latest trends in clear bag policies expanding beyond large venues, creating dance space in fixed seating venues, multi-day power outages caused by intentional power shutdown to prevent fires, and cyber-security. At the end of the day participants partook of the wonderful hospitality of meeting hosts Steve Kirsner and Derek Michelson, who had arranged a wonderful happy hour and venue tour, but also a chance to stand on the ice.
This chapter meeting was made possible by a wonderful committed group of volunteers including Jennifer Norris, CVE, San Francisco War Memorial; Steve Kirsner and Derek Michelson, SAP Center San Jose; Courtney Egg, Lesher Center for the Arts; Mario Duran, Event Center at San Jose State University; Leticia Pena, San Jose Theaters; Andrew Shreve, The Cow Palace; Heather McAvoy, Schuler Shook; Leslee Stewart, Paramount Theatre; and Jenn Poret, Mountain View Center for the Performing Arts.
Also essential to our successful meeting was the generous sponsorship of Aramark, SAP Center at San Jose, The Shalleck Collaborative, Auerbach Pollock Friedlander, Schuler Shook, SmartCity, Clos LaChance Vineyards, Fanatics, and accesso – ShoWare.
Photo by Brandon Magnus-Ledesma
Jennifer Norris, CVE, is Assistant Managing Director, San Francisco War Memorial and Performing Arts Center.