By R.V. Baugus
While I often wheeze along on fumes trying to get some extra kick or as we like to call it here in the south, "some pep in my step," I am often amazed at my IAVM colleague Mark Herrera and the rather — shall we say — ambitious schedule that he logs. I mean, all this never-ending travel that our Director of Education and Life Safety does while still managing to steadfastly hit the gym.
I am apparently not the only one to hold Mark in such high esteem as we are very proud to share that Northstar Meetings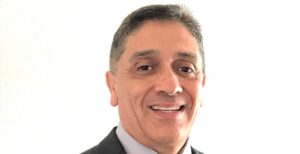 Group recently placed Mark in select company in its "Top 25 Influencers of the Meetings Industry." As the tagline prior to the listing of the select 25 says, "Meet the people leading us through a difficult year."
If ever there was an understatement …
Northstar Meetings Group is an online platform for business and sports event organizers, planners and incentive program professionals across all sectors – corporate, association, third-party organizations/agencies, SMERF (social, military, education, religious and fraternal meetings) — providing critical news analysis and research, practical strategies, creative solutions and sourcing services.
This year's Top 25 Influencers of the Meetings Industry, selected by M&C editors based on extensive reporting this year, all took swift action to develop solutions and plot a course for recovery, according to the company website. They're leading by example, resolving problems in their day jobs while remaining tirelessly focused on the bigger picture: the betterment of the meetings industry and an easier path forward for the people who make this business truly great, it was noted.
We also happen to think the description about Mark and his work is spot on for someone who tirelessly gives back to the industry. Have a read below and I'm sure you will agree. And to read the full story and find out the full list of 25 — many of whom are very familiar to our industry — click here.
Mark Herrera is pretty cool in a crisis. It's a trait he cultivated in his 20-plus years with the Hobbs, N.M., police department. During his tenure, he was a detective for the Gang and Narcotics unit, and a sergeant for the S.W.A.T. team, among other roles. That experience is especially helpful now.
"I'm passionate about giving people the tools they need to protect themselves and others in the midst of crisis," Herrera says. "That can be safety-and-security-related or, now, how to respond to a pandemic."
As a trained first responder, Herrera and his team held a series of town halls focused on each of the major venue types IAVM serves — convention centers, stadiums, arenas, universities, amphitheaters and fairgrounds. He expanded IAVM's remote-learning resources with courses such as "Business Continuity Management" and "Business Impact Analysis," and launched an Alternate Facility Working Group to help members convert their venues into emergency hospitals or homeless shelters. Meanwhile, he reimagined all of IAVM's scheduled in-person gatherings as digital events, including the upcoming Venue Connect Annual Conference, taking place Oct. 26-30.
Herrera's job isn't so different today than it was at the Hobbs P.D., he says. His core mission remains "helping people get their lives back in order."