From Shore Fire Media
Music venue and hospitality company Notes Live has inked a deal with global entertainment presenter AEG Presents for the forthcoming $55 million outdoor music coliseum Sunset Amphitheater in Colorado Springs, Colorado. Under the terms of the deal, The Sunset will present roughly 40 concerts every year in an 8,000-person state of the art open-air amphitheater in the entertainment-rich Polaris Pointe development. In a true owner-operator partnership, AEG Presents will exclusively book the acts and run day-to-day operations while Notes Live will continue to own the venue. The unique terms of the ten-year agreement underscore the exceptional nature of this collaboration. The agreement is a ten-year term. Construction on The Sunset is already underway, on schedule to open in 2024.
"I can't express the magnitude of our excitement as we embark on this incredible journey alongside AEG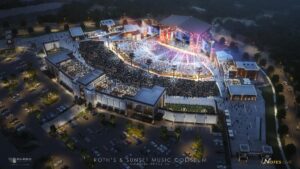 Presents. This partnership not only solidifies and validates our business model but also represents a truly exceptional alliance. Anytime you can do business with an Anschutz company, it's an honor," said Notes Live CEO JW Roth.
Brent Fedrizzi, Co-President & COO, AEG Presents Rocky Mountains, added, ""We are looking forward to bringing world class entertainment to Colorado Springs with the addition of the Sunset Amphitheatre and our new partnership with JW.Roth and his team at Notes Live. This entertainment destination will be a crown jewel in the community for artists and fans to enjoy for years to come."
Named last fall to Billboard's "Venues to Watch" list, The Sunset will host some of the largest touring acts in the country in style and comfort on the same campus as Notes Live's current mid-sized music venue Boot Barn Hall. Designed by industry renowned architects, The Sunset will offer an unparalleled view of the sun setting over Pikes Peak, America's mountain, right behind the stage as each concert begins, flanked by the United States Air Force Academy stadium on the left and the iconic Air Force chapel on the right, as well as amenities like 92 VIP luxury firepit suites, and a $20 million signature fine dining seafood and chophouse with a magnificent rooftop bar, carrying over 150 of the rarest bourbons in the world.
Notes Live has plans to begin construction in a half dozen markets by the end of 2023 or early 2024, with expansions to six additional markets planned over the next five years.
In 2022, Notes Live, Inc. announced new music and entertainment complexes in the emerging markets of Colorado Springs, CO; Gainesville, GA, and Murfreesboro, TN. The company identifies markets in regions with growing populations but a dearth of high-quality music and entertainment venues, and offers premium concert experiences, complete with unbeatable sound and sightlines as well as elevated food and beverage offerings. In addition to having two Notes Live venues named to Billboard's "2022 New and Renovated Venues List," JW Roth was named a "VenuesNow 2022 All Star."
Photo by Notes Live