From celebrityaccess.com
Notes Live, the rapidly growing music venue and hospitality company, has signed a binding purchase and sale agreement for land for a planned construction of one of the most stunning outdoor amphitheaters in its collection. Modeled after Notes Live's thriving food and music center in Colorado Springs, the Mustang Creek Crossing development is projected to be a world-class outdoor amphitheater in Oklahoma City, just off John Kilpatrick Turnpike and I-40.
The project plans to feature 120 luxury firepit suites (on sale now), a landscaped grass berm,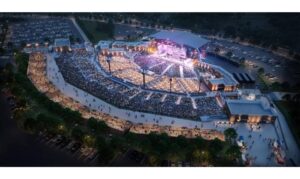 traditional reserved seating, and premium hospitality offerings for a cumulative projected capacity of 12,000 seats. The company hopes to break ground in early 2024 and open the outdoor amphitheater for Summer 2025 tours.
"Building world-class music venues is our passion and mission at Notes Live," said JW Roth, CEO of Notes Live. "With the upcoming construction of our expansive 12,000-seat amphitheater in Mustang Creek Crossing, we are excited to bring unforgettable concert experiences to Oklahoma City. Our commitment to unbeatable sound, sightlines, and elevated hospitality offerings will create memories that last a lifetime. We look forward to breaking ground in early 2024 and welcoming music enthusiasts to our stunning outdoor amphitheater in Summer 2025."
"It is our great pleasure to welcome The Sunset Amphitheater to Mustang Creek Crossing," said Sam Coury, principal owner of Mustang Creek Crossing. "Our family strives to grow this district into an entertainment and experience hub for the city's west side and encourage investment for a stay-and-play destination that families from across the state and region will embrace."
Owner/Agent representing Mustang Creek Crossing Development, Carol Coury Hefner, added, "It was an honor to find common ground in the Notes Live ownership as we share vision for this substantial mixed-use development and expand the future for Mustang/Yukon and Oklahoma City communities."
Oklahoma Lieutenant Governor Matt Pinnell said, "I am thrilled about the partnership between Notes Live and Mustang Creek Crossing in bringing The Sunset Amphitheater to our great state. This state-of-the-art venue will not only enhance our entertainment landscape but will also serve as a catalyst for economic growth and tourism. With its capacity to host the largest touring acts in the country, The Sunset will draw music enthusiasts from far and wide. Oklahoma's allure as a premier entertainment destination is growing stronger, and the Sunset Amphitheater will be a testament to our commitment to providing unforgettable moments for residents and visitors alike."
"I'm extremely excited our county has been chosen for this high-quality development, bringing top-shelf entertainment and dining venues to Mustang Creek Crossings. I'm certain The Sunset will be a tremendous addition to our incredible and rapidly growing community," said Chris West, Canadian County Sheriff.
In the last 12 months, Notes Live, Inc. announced new music and entertainment complexes in the growing markets of Colorado Springs, CO; Murfreesboro, TN; Tulsa, OK; Roanoke, TX; and Gainesville, GA, which just opened for business this month.