By Andy Malt
Plans to build the UK's biggest arena venue in Manchester have been announced by Tim Leiweke and Irving Azoff's Oak View Group. If it gets planning permission, it will hold 2,500 more people than the UK's current largest, the nearby 21,000 capacity Manchester Arena.
Plans have not yet been submitted to the local council, but it is proposed that the £350 million building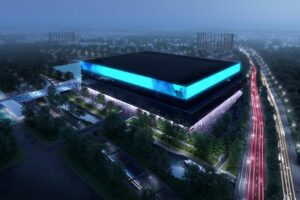 project will sit next to Manchester's Etihad Stadium. OVG says that it would host around 120 events per year, with a particular focus on music.
"I've always been a huge fan of Manchester and we have been trying to figure this out for many, many years," Leiweke told the Manchester Evening News. "We're grateful we finally have a site, we have a vision, and we have a partnership with the community to pull off building what we hope will the best arena ever built in Europe and the UK."
"Building the best and most expensive arena to date in the UK or Europe is a fantastic testament to Manchester and the vibrancy of Manchester," he added. "I believe the marketplace deserves it, I believe the marketplace has earned it."
He also dismissed concerns that the new venue could have a negative effect on the existing Manchester Arena, which is owned by rival venue company ASM Global. "Most of the big markets have two, three or four arenas," he said.
"If you look at London, when The O2 was built many people predicted the demise of Wembley Arena, but they've just had the best year they've ever had. There's one new proposed arena in addition to that one and probably a second one coming. So that's potentially four in London. Birmingham has two next door to each other that do well."
"Manchester is not only the second biggest market in the UK, it's a capital market for around 15 million people in the north. This is a cultural capital, this is where people go for music, for entertainment, for sports. We believe two arenas will do just fine.
"The UK has seen a huge uplift in terms of live entertainment but Manchester has been a bit of a downturn. Some of the tours are simply going elsewhere. Manchester has competition form arenas built in the last 10 years, such as Leeds and Liverpool. This will mean big tours and every big event will be open to Manchester now."
Among the plans for the venue, OVG says that it will incorporate various low carbon technologies and waste reduction measures to ensure environmental sustainability.
Andy Malt is a London-based music journalist, currently working as editor of CMU, part of UnLimited Media.