Oak View Group (OVG), the owners and operators of Acrisure Arena and Coachella Valley Firebirds, have become a new community partner with the Palm Springs Plaza Theatre Foundation and promised a contribution of $1 million in a matching grant toward the final phase of the fundraising campaign to restore the historic theatre.
This donation challenges others to match this gift, helping to raise the remaining funds needed to achieve the theatre's fundraising goal so that the restoration may soon begin. OVG's Tod Leiweke and John Bolton, CVE, presented the check to the Plaza Theatre Foundation during a special presentation.
As the first employee of Acrisure Arena, Bolton was instrumental in launching the modern music and sports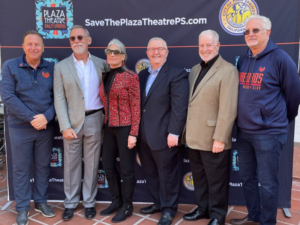 venue from its early planning to groundbreaking in June 2021 and to the arena's highly successful landmark opening in December. Further solidifying OVG's belief and investment in the future potential of the Palm Springs area as a major entertainment destination, Bolton will continue this commitment with reviving the Plaza Theatre for new generations in the Coachella Valley.
"I'm honored to transition the energy we used to make Acrisure Arena into the world-class venue it is today and be involved with the Plaza Theatre Foundation and their efforts to restore one of the most iconic venues in the Coachella Valley," Bolton said. "To have Acrisure Arena and the Coachella Valley Firebirds adopt the Plaza Theatre as a core community fundraising project is such a tremendous development and exciting for everyone that is involved."
Pictured: John Bolton, CVE, third from right, leads the charge to restore the Palm Springs Plaza Theatre.