Excitement continues building in the Bay Area as the Oakland Athletics have revealed a new-look revised design plan for a new ballpark planned to open in 2023.
The current home to the Athletics and most recently the NFL Oakland Raiders before their announced move to Las Vegas, the Oakland-Alameda County Coliseum has spawned some of the public assembly venue's most famous leaders, including Ray Ward. Opened in 1966, the stadium next to the NBA Golden State Warriors' Oracle Arena (and on another side note that team will also be relocating) in recent years has had the misfortune of its age showing in sewage leaks, among other issues.
Now, the team not only discussed plans to develop a new stadium, but one to show some love to the team's current home. As for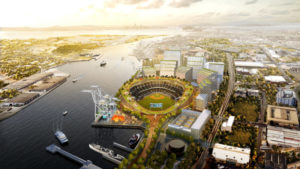 the proposed new park, the waterfront Howard Terminal earned the nod and will have a capacity of 34,000 to bring a more intimate feel for guests, a trend that is moving across Major League Baseball.
Athletics' President Dave Kaval shared some information that includes some revisions from the original plan after hearing from invested stakeholders including community members, public officials, and fans.
Most notably, fans will detect a stadium with a prevalent circular shape, a design said to enhance the fan experience by creating a more intimate feel and experience.
Kaval the new design will offer better views of the water and Oakland from inside the ballpark, along with more "seamless, efficient, and fluid" access to the stadium.
Another major goal for the project is to stimulate environmental, economic, and community benefits for the local citizenry.
The team has also agreed a partnership with the West Oakland Environmental Indicators Project (WOEIP), a resident-led community based environmental justice organization to develop a shared environmental justice agenda on issues of public health, air quality, land use, and equity.
If all goes according to plan, the team expects to break ground by 2021 and open the venue two years later.